El Dahan: A Family Affair in Fifth Settlement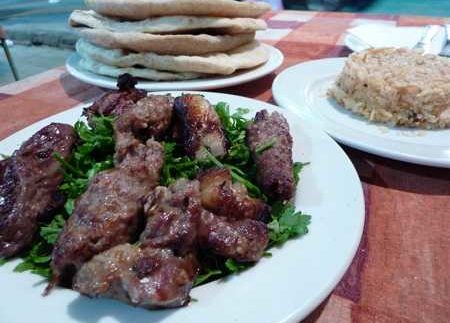 For home-style cooking in Cairo
without the hassle, El Dahan has always set the standard. This much-copied Egyptian
family restaurant is a fixture of Khan El Khalili for years, offering quality,
affordable Egyptian favourites in a simple, friendly environment.
Now open in the Fifth Settlement as well as in Khan El Khalili, El Dahan
is a great place to stop by for an unpretentious lunch or snack while shopping
in the market, and a favourite new family outing spot for residents of the
Fifth Settlement. Its for good reason, too.
El Dahan fans are in love with the restaurant's mezzas: the tehina is
one of the best in Egypt,
and the simply prepared, perfectly grilled meats and home-style desserts are all
for bafflingly low prices. A hearty meal for two with sodas, grilled meat and
salads and dessert won't exceed 100LE.
This reviewer tried a selection of mezzas including vine leaves, hummus,
tehina and baba ghanough (5LE each) as well as hot, fresh bread. Massive
platters of grilled chicken, kofta and grilled meat (about 30LE each) are served
with garlic sauce, rice or fries and tehina. The meat was grill-blackened and
crunchy on the outside and juicy and tender on the inside; consequentially it disappeared
rapidly.
Sadly, the rice was undercooked, but the fries were crispy and light and
made a perfect side dish to the meat. The garlic sauce was tangy and delicious
with the meat, and the tehina was silky and moist. More freshly baked bread completed
the delectable main dish experience.
For dessert, we chose om ali and rice pudding (both around 10LE), which
were accompanied by dark tea with mint. The om ali was of a perfect consistency
and served chock-full of nuts, coconut and raisins. The rice pudding was creamy
and not overly sweet, but could have been even better served with more cinnamon
and a garnish of pistachios or sultanas.
While the satisfying food and lively atmosphere of El Dahan was
thoroughly enjoyable, this restaurant could be even better if the service was
improved. Though by no means the only culprits in Cairo, El Dahan's waiters
seemed to enjoy bringing our order in small pieces, forcing us to finish one mezza
at a time instead of sampling from the selection, and withholding important
aspects of the main meal (bread, garlic sauce, forks) until they were
indignantly confronted. However, this may have just been this reviewer's experience,
and the food compensates nonetheless.
So for an authentic Egyptian dining experience, head to El Dehan for a
thoroughly enjoyable, simple and affordable home-style meal at one of Egypt's
best family restaurants.