El Dawar Fiteer: Cheap, Fresh Late-Night Snack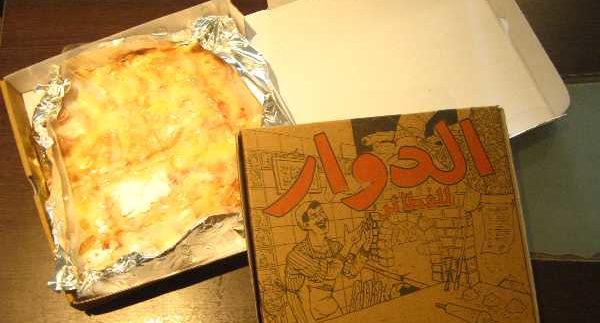 Like foul and
falafel, Egyptian fiteers are a staple part of Egyptian cuisine that we often
resort to when our bellies are growling but our wallets are tight. With five
branches all over Cairo,
El Dawar Fiteer is a guaranteed go-to for fresh, tasty fiteers under 20LE.
While their
hotline delivery service is fast and efficient, we preferred stopping by the
joint's Maadi branch to pick up our fiteers while they're still fresh and hot.
The shop is tiny with a counter in front of the big fiteer oven, which is run
by a man that looks oddly like the cartoon figure on the fiteer boxes. Coincidence?
We were too polite to ask.
While the
fluorescent lighting and solitary table didn't encourage a sit-down meal, the
fiteers were quickly made before our eyes, and the staff joined in our debate
on what to order; recommending the mixed kiri fiteer (18LE) over the plain kiri
option (14.50LE). While the plain kiri fiteer is a long-time favourite, the
mixed option came with red and green peppers, as well as a generous dollop of
kiri cream cheese.
The menu has a
huge selection of both sweet and savoury fiteers, in small, medium and large
sizes. A small size is enough for two people with small appetites. If you're
blessed with a large appetite; try the large size but don't say we didn't warn
you when you feel morbidly stuffed.
Be warned; as
fresh as the fiteers are they are also immensely greasy. Greasier than John
Travolta's hair, greasier than Steven Seagal's smile… you get the greasy
picture.
If you like your
meat, try the Egyptian sausage and basterma fiteer (10.50LE), while
cheese-aholics will appreciate their cheese mix fiteer (14.50LE), which blends
mozzarella with rumi and flamenk cheese.
That being said,
our hearts were won over by the simple but genius fiteer with milk and powdered
sugar (4LE). A plain fiteer is covered with powdered sugar and half a cup of
milk, producing a sweet, custardy sauce that makes for a heavenly though
gluttonous eat. Warning: do not attempt to eat this in front of someone you're
trying to impress. It's nearly impossible to get the fiteer into your mouth
without spilling sauce all over yourself, the table and anyone standing nearby.
The chocolate nutella fiteer (11.50LE) was the only disappointment, though: the
chocolate definitely didn't taste like nutella, and we know our nutella well.
El Dawar Fiteer
is perfect for a lazy night at home with friends. Its speedy delivery service also
makes it an office-friendly option. Easy on the wallet though heavy on the
grease; you may feel the need to go for a quick run afterwards to work off the
calories. That is, once you recover from your fiteer coma.