El Gahsh Foul: Baladi Food for the Tough Guys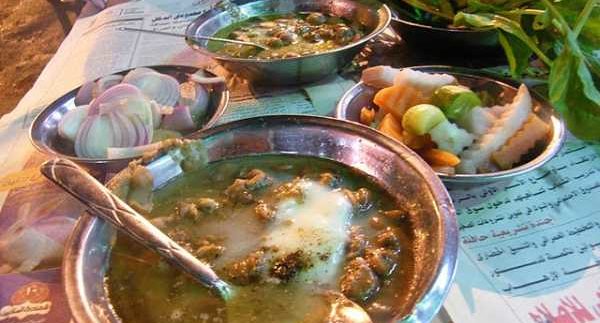 The measure of the average Egyptian man is
often his ability to ingest street food.
The more baladi your street food of choice; the more street-smart
credibility you gain. This explains the popularity of baladi eateries usually
run by– and named after– men of questionable repute, like Zizo the
Stinker, Abdo Contamination, Hamada
International, Saad the Thief (really?) and Foul El Gahsh (Foul of the Mule-
we assume this doesn't refer to the owner).
While women are usually exempt from this test
of toughness (based on the belief that the female stomach is too delicate for
street food), this reviewer decided to embark onto the crowded streets of
Sayeda Zeinab to prove that she too can be street-cool.
Foul El Gahsh & Sons (commonly known as
Foul El Gahsh) is one of the best baladi foul places in Cairo. Located on a side-street next to the
Mosque of Sayeda Zeinab, it's literally just a stall on a street corner. No
restaurant, no address, no phone number; nothing. Just keep the mosque on your
right and walk down Port Said Street till it forks into a small side-street
towards the right. El Gahsh will be on the corner of the first side-street on your left.
Don't expect ambiance or cleanliness; El
Gahsh is strictly about the food. Plastic tables and wooden chairs (with the
eatery's name carved into their backs) are laid out on either side of the
street; and old newspapers serve as your tablecloths, and later on, as your
napkins. Then again, you're not here for the decor; you're here for the foul,
which comes in three variations: in vegetable oil, cotton oil or with butter.
Less than five minutes after ordering, your
table will be served promptly with a tin bowl of foul, accompanied by bowls of
onions in vinegar, pickled vegetables, green salad, fried eggplant and green
peppers, and gargeer (rocket). A pile of baladi bread, a small bowl of diluted
tehina and two plates of salt and chilli will also join the party.
It's best to make a sandwich out of all the
ingredients to mix up the flavours. The rich foul with butter pairs nicely with
the green salad, while the gargeer works well as a palate-cleanser. The foul
with butter is creamy and delectable, while the slightly healthier foul with
oil can border on bland. For an added kick, order their taameya, which comes
hot and satisfactorily crunchy on the outside, with a small, soft centre.
One bowl of foul with all its side orders
is enough to send you into a happy coma; so bring a friend along if you
have a small appetite. Also ask for their fried potato crisps or special
potatoes, which are basic and very greasy French fries. Two plates of foul and one plate of taameya
with all the trimmings will set you back a very cheap 16LE.
Whether or not you earn your street cred
depends entirely on if you can digest this meal. Some tough guys have been
coming back for years and would willingly sell their grandmothers for a share
in the stall; others may suffer miserably for days after and swear off foul,
food and listening to their male friends' recommendations forever. Whatever
your verdict may be, you should definitely try this stall's creamy, delicious foul.