El Kebabgy: Finest Fresh Bread in Cairo
Sofitel El Gezirah Cairo Hotel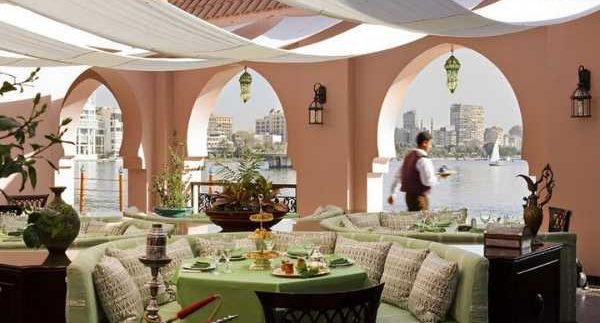 Egyptian women baking bread in a traditional stone oven isn't an image
normally associated with a five-star hotel; but at the Sofitel Gezirah's El Kababgy,
it's one of the first things you see when you walk into the restaurant; and
it's something that they certainly take pride in.
Named after the traditional Egyptian kabab maker, the Sofitel restaurant
elevates the humble barbeque concept to offer a taste of local culture to its
guests. Set right on the Nile with wafts of delicious grilled meats scenting
the air, it's a dramatic and comforting atmosphere to enjoy while watching the
feluccas go by.
Visually, the place is spectacular– the Nile itself is the star of this show
and makes up for any perceived lack in venue décor. There are four dining
areas, three outside with varying proximity to the water, and one inside, with
modern décor and very inviting air conditioning.
The menu is simple and focused, sticking strictly to what would be offered
in an Egyptian/Lebanese kitchen. They offer a selection of hot and cold mezzas,
grilled meats and traditional Middle Eastern desserts– it's really that simple.

We started off with some motabel (19LE), a garlicky, slightly spicy eggplant
and tehina dip, coupled with two loaves of their scrumptious and freshly baked
flatbread (3LE each).
The motabel had a strong spicy/garlicky flavour, whereas the bread was so
fresh and lovely that we quickly settled on eating it by itself; no additions
were necessary to enhance its cakey texture and subtle flavour.
With the barbeque calling, we selected the mixed grill (125LE), shish tawouk
(70LE) and mango juice (22LE). The meats arrived on a crowd-pleasing, golden barbeque
grill, protected by a loaf of bread and accompanied by some grilled vegetables.

At 70LE, the shish tawouk was pricey for just two skewers of slightly dry
chicken. The mixed grill was better, including pieces of kabab, kofta and lamb
chops as well as grilled chicken. All were tasty and tender, but the chewy,
fresh lamb chop was the highlight, along with the lamb kabab– richly
flavourful. The kofta could have done with a little less fat, along with the
chicken, which was juicy yet grafted to its skin.
The only downside to our evening was the dinnerware, which was less than
clean; we noticed the remnants of lipstick still on our water glasses, and
nearly every plate had a little bit of something on it. The service was
welcoming and gracious, but increasingly hard to flag down as the night wore
on.
As with most outdoor summer dining, our only complaint was that it was too
hot to sit outside and really enjoy our food of fairly heavy, grilled meats.