El Maiz: Inconspicuous Zamalek Eatery Serving Delicious Homemade Pasta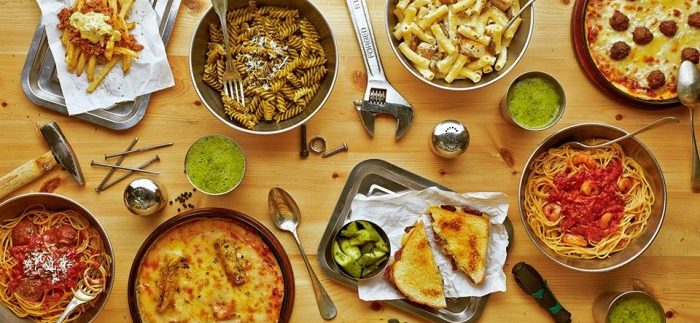 It's no secret Italian cuisine is among the most popular across restaurants in Cairo, but it might also be the single most terribly executed cuisine in Egypt. There are recurring patterns seen across all restaurants that serve Italian food, be it pasta, pizza or risotto. Even the better established restaurants wind up making the same mistakes in their dishes; if you don't believe us, allow us to point you to a restaurant that can school everyone else.
El Maiz, located next to HSBC on Abo El Feda Street in Zamalek, is a relatively small, inconspicuous restaurant that opened its doors at the end of last year serving pasta, spoon pizza, grilled cheese sandwiches, desserts and soft drinks. Nothing on the menu costs more than 38LE.
The dominant colour is grey with complimentary yellow. It's designed to have a construction worker/factory theme – the tip jar is a helmet, the kitchen is open and you can see the happy helpers preparing fresh pasta and cooking the sauces.
We decided to skip the more extravagant dishes and go straight for the classics; meat ball pasta (30LE) and mac & cheese (25LE), with extra parmesan cheese (5LE). You can choose the type of pasta you want; we opted for linguini for the meat balls and fusilli for the mac & cheese. There's the option of whole grain pasta, too.
Our food arrived in metal bowls containing very generous portions. The meat balls were cooked in a phenomenal tomato sauce, made with fresh tomatoes, hints of garlic, basil, olive oil and topped with parmesan cheese – words simply don't do this dish justice.
The mac & cheese, similarly, did not disappoint. In the same metal bowl with the same generous portion, the classic American dish was everything it should've been; cheesy, slightly creamy and capable of stuffing you – and that it did.
With friendly staff, a clean space and incredible food, we hope more restaurants like these pop up; Cairo needs simplicity and authenticity in its restaurants.