El Mashrabia: Classic Egyptian Cuisine in Giza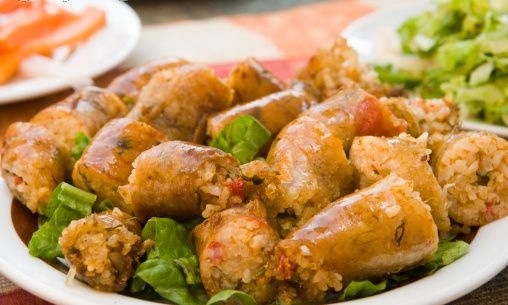 As Egypt's diversifying dining scene sees more and more restaurants in Cairo open, Cairenes increasingly overlook good old, local Egyptian food. Named after the traditional Arab latticework windows, El Mashrabia is a restaurant in Giza that serves masterfully prepared, authentic Egyptian cuisine.
Stepping in from the small Giza road, meters away from the Nile, we were welcomed by a waiter in the dimly lit restaurant. With wine-coloured carpet beneath bold wooden tables, there's an air of class about the place. Adding to this, the cutlery on all the tables was neatly arranged, ready for service.
The menu offers over forty dishes, including rabbit with molokheya (62LE), grilled pigeons (32LE), daoud pasha with rice (45LE) and okra with meat (38LE) amongst many others.
For appetisers, we enjoyed 250g of mombar (85LE/kg) – rice stuffed sheep intestines – stuffed vine leaves (18LE) and fereek stuffed pigeon (32LE), alongside flavourful servings of tehina (4LE) and hummus (4LE). For our main courses, we ordered a plate of turkey sharkasia and, at the recommendation of our waiter, the veal fattah (60LE).
Surprisingly, the food didn't take long to prepare. We were first brought the appetisers and the stuffed pigeon; being more used to the poultry being stuffed with rice, the mixture of pulses took took a little getting used to, but was well complimented by the added dash of tehina or hummus.
Though tasty, the hummus dip tasted a little odd, possibly due to its runny texture; we seem to have grown accustomed to having it smooth and thick as is served at Lebanese outlets.
The stuffed intestines were very well-prepared and delicious, without being overcooked and rubbery. Similarly, the vine leaves were also well-made and generously stuffed, despite being a little salty.
Soon after, the main courses arrived, served with large dishes of rice. The sharkaseya's rich almond sauce was served on the side, whilst the turkey was cooked well and seasoned perfectly for maximum flavour. The veal fattah, meanwhile, was smothered with a thick tomato and vinegar sauce with tender, perfectly-cooked veal – served on the bone.
El Mashrabia may not enjoy the same level of popularity as years gone by, but the restaurant has certainly not faltered in its standard of cooking.