El Mundo: Food for a Fairy Tale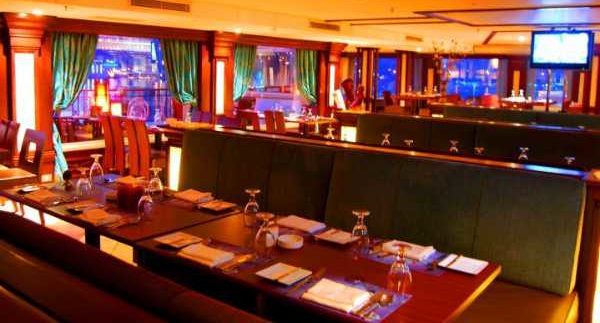 If you're in the mood for some fine dining and a nautical setup, the Nile Lily Floating Restaurant may be quite the viable option. Located on the Manial corniche, the Nile Lily is more than just another floating restaurant; it plays host to both the Sky Lounge on the upper deck and El Mundo on the second floor.

The boat's main entrance consists of a small garden, beautifully landscaped and well presented, while the lobby area is majestic with marble floors, grand columns and trendy chandeliers. Think modern-day Cinderella ballroom and we're on the same page.

El Mundo serves American, European, African and Asian cuisine. Menu highlights include El Mundo's chicken rolls; chicken breasts wrapped in beef bacon and stuffed with Philadelphia cheese, sun-dried tomatoes on a bed of Spanish rice and served with sweet red pepper sauce.
Try the Italian veal medallion, a dish of golden, fried veal cuts topped with tomatoes, mozzarella and basil served with mashed potatoes.
If you're still not sold, El-Mundo offers a variety of gourmet dishes, served in a decorative arrangement that looks more like a piece of art than dinner.

For dessert, try the banana soufflé, which is topped with coconut cream, kiwis and strawberries. The Belgian chocolate caramel mousse is also highly recommended. Its portion size may be small, but its rich flavour will probably knock you out.

Of course, the restaurant's picturesque view, friendly service and delectable dining options come with a catch; food portions are rather small and a full-course meal won't necessarily satisfy you. Prices are moderate, though, with an appetizer, a main course, a dessert dish and a drink coming to around 150LE per person.

So, if you're looking for a floating restaurant along the Nile that's a little different from the rest, then start with El Mundo at Nile Lily.