El Raye' Grill House: Traditionally Grilled Meat in Maadi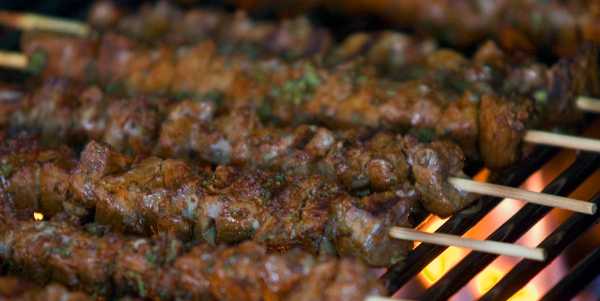 Carnivores
will agree: there are few things better than a traditional Egyptian grill house.
Everyone has their favourite restaurant, but we still must maintain a degree of
willingness to try out new places, especially if they are geographically closer
than the more popular options. So, residents of Maadi have cause for a modicum
of celebration, because El Raye' has not one, but two branches in the Cairo neighbourhood.
The first location
in New Maadi's El Laselky Street has barely enough room to seat 40 people, and
the concise menu offers the bare essentials of salads, appetisers and grilled
meat options. Judging by the outside appearance, we thought the decor on the
inside would be something akin to Abou El Sid. Once inside, that impression
disappeared, and we were thrust into a crowded beige and brown dining
hall.
The chairs
were made of heavy metal and had 'Raye'' cut into their backs, making for a very
noisy and physically taxing sit at our table. The problem was further
compounded when the lettering caught onto loose clothing and belt loops,
forcing the diner to wrestle himself free from the chair's clutches. A
companion spotted a lone cockroach scurrying about on the floor, and when we
decided to ignore its presence, it decided to climb up onto the table and join
us for dinner. It was quickly swatted away, and thankfully did not ruin our
appetites.
We were
seated at a table not directly accosted by the air conditioner on full blast,
and immediately ordered a selection of the salads (8LE each) on offer: tehina, baba
ganough, yoghurt and cucumber, pickled tomatoes and garlic tomeya. Our orders arrived
promptly with two baskets of bread; one fresh and soft, and the other toasted
on the grill. The best salad was by far the spicy and pungent pickled tomato,
while the garlic tomeya was oddly light on the garlic. The rest of the salads
arrived looking refreshingly attractive, but were too timid in flavour to stand
up to the meats that arrived fifteen minutes later.
At the time
of this review, the tarb (minced kofta wrapped in a fatty membrane and grilled)
was unavailable, as was the shish tawouk. The El Raye' platter (50LE) is a
great way to sample everything on offer, and while it did not blow our minds; it
certainly hit the mark. The kebabs were cooked well-done, but because of its
spicy and acidic marinade, they were still very tender and full of flavour. The
kofta was not overly salty, and it had enough fat to take advantage of the
grilling heat to make for a very succulent mouthful.
We cannot
speak to the quality of the cooking if ordered for delivery; but at the
restaurant, the goods are delivered as expected; as long as you do not expect
to be amazed, but are content to be merely satisfied.