El Rayek: Grilled Chicken Delivery, Just Like Home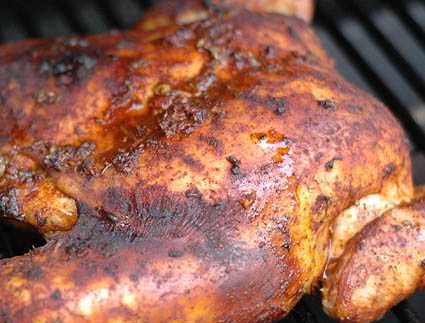 While servers of grilled chicken and other
traditional delights in Egypt,
such as Andrea, have won our affections long ago; we are pleased to
announce yet another cherished poultry discovery.
El Rayek in Maadi is a mostly delivery outlet
that serves up crispy grilled chicken breast, half-chicken and shish tawouk among
other chicken dishes that are charred and seasoned to perfection. This delivery eatery offers rewarding and satisfying
cuisine, especially appreciated by those in search of a solid, no-frills meal to tie them
down.
For late nights when food cravings usually
result in guilty orders of McDonalds, Hardees and other less-than-healthy fast
food treats, El Rayek offers a solution. The food arrives fast, is flavourful
and greasy enough to satisfy cravings, but cooked with home cooking flavours
minus the deep-fried fries and preservatives.
Grilled chicken is a must; a portion
includes two sizeable splayed half-chickens barbecued with the skins on,
blackened around the edges, crispy on the outside and tender on the inside.
Shish tawouk is a flavourful, half-kilo
portion that should not be passed up. The cubes of chicken are always
thoroughly marinated and perfectly grilled, with cuts of meat that are never
touched with fat or gristle. Kebbeh is another dish prepared expertly at
El Rayek; the dark morsels of liver arrived packed in small containers,
dripping in tangy marinade.
Like any self-respecting restaurant specialising
in Egyptian home cooking, salads and mezzas are available in abundance. Tehina is
rich and abundantly flavourful, and makes an excellent accent for both grilled
chicken and shish tawouk, although many may prefer the mild garlic tomeya as a
side for the shish tawouk. Another pleasant surprise is the cucumber and tomato
salad, whose ingredients are always surprisingly fresh and crispy rather than
the usual soggy mix that arrives with late-night delivery. To tie everything
together, order generous servings of El Rayek's seasoned rice, prepared with
spices and currents.
El Rayek guarantees a satisfactory meal of
home comfort cooking delivered to your doorstep. While eating inside the
cramped venue is also an option, we often prefer having our feast delivered to
the comfort of our own home. A meal that could easily feed several partiesl–
consisting of grilled chicken, shish tawouk, rice, several salads and bread–
tallies up to a modest 125LE; making this grilled chicken restaurant all the
more worthwhile.