El Sit Hosneya: Egyptian Food to Rival Your Grandma's
Sheraton Cairo Hotel, Towers & Casino, El Galaa Sq.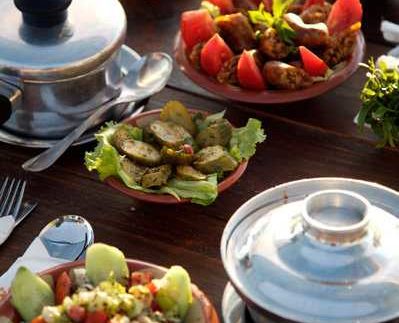 Oriental food in a stylish atmosphere has long been
the territory of the infallible Abou
El Sid. For those looking to break up the routine, El Sit Hosneya is a
lesser-known but equally stylish oriental restaurant in the heart of Cairo.
El Sit Hosneya's Dokki branch is lavishly decorated in
rich, textured fabrics and vibrant red hues. The bright interior is welcoming
and sets the tone for a laid-back dinner or fetar, or for a relaxing evening of
coffee and dessert.
The menu is extensive and includes delectable Egyptian
classics such as Alexandrian liver, kofta halaby and stuffed pigeon. The
chicken liver with lemon and garlic is tender and well seasoned though its
portion was too small; while a cold appetiser of feta cheese with chilli and
tomato offered lovely contrasting flavours.
The mousa'aa fatta consists of rice, fried bread,
eggplant and minced meat. It's an inspired, hearty and filling dish
representing the best of Egyptian cuisine. No Egyptian feast is complete
without molokheya with rabbit and El Sit Hosneya's version, served with onion
and vinegar, rivals even the best home-cooked version.
A completely empty stomach is essential to get the
full El Sit Hosneya experience, which makes it a great place for fetar or
sohour. The restaurant offers three set menus chock full of house specialties
for both Ramadan meals.
Fetar set menus are priced at 115LE, 135LE and 165LE
and offer different combinations of appetisers, main dishes and desserts such
as yogurt sauce, sambousak, baba ghanough, fatta Hosneya, mixed grill, couscous,
molokheya with chicken, kofta halaby, rice pudding and pumpkin treat.
Sohour menus go for 80LE, 90LE and 120LE and include
staple favourites like foul, eggs and sogo' along with salads, a cheese plate
and a selection of sweet treats like zalabia and dates with milk.
Favourite Ramadan drinks like amar el din and sahlab
are perfectly executed at El Sit Hosneya. Also on offer to complement your Ramadan
meal is an extensive selection of cocktails, fresh juices, teas and soft drinks
priced between 5LE to 15 LE.
Abou El Sid officially has competition in the form of
El Sit Hosneya, which offers a friendlier atmosphere and lower prices than the
reigning king of oriental hospitality. With delectable fare and excellent
service, El Sit Hosneya is set to become Cairo's
new home away from home for the best of Egyptian cuisine.