Euro Deli: Quick Mezzas Available 24 Hours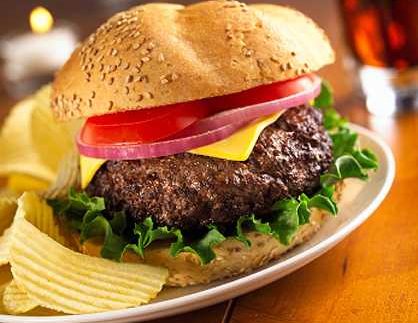 Finding
something to chow down on at 4AM is never a problem in Cairo. While late-night
eats aren't difficult to find, grabbing something relatively fresh is a totally
different story.
This restaurant
is well-known to most Cairenes, and has been ordered into the office more times
than can be counted. Whether you're looking for an easy lunch on the run or
craving a little bit of comfort after a long night out, Euro Deli offers an
extensive international menu, including breakfast omelettes, sandwiches and hot
platters.
With branches
in Heliopolis, Maadi and Zamalek; Euro Deli is also listed on virtually every area's
Otlob.com line-up. Not only that, but the fact that it's open 24 hours
makes it a convenient and often efficient dining choice, no matter the time of
day.
We love a
well-made and decently priced mezza. The fattoush (12LE) is surprisingly tasty
with its typical ingredients, while the tomatoes are not always as fresh as
they should be. The hummus (also 12LE) is creamy with the perfect hint of
garlic. If you choose a mezza that has bread on the side, make sure to ask for
your shami bread to be fresh; as it can often times be a tad bit stale.
The homemade
French fries (10LE) are always a hit; crispy and satisfying with pesto
mayonnaise for dipping on the side. If even more pesto can be handled, the
Italian chicken sandwich (17LE) is a good option. Smeared with the same pesto
mayonnaise, it's piled high with fresh veggies and a tender chicken breast.
While the Monte' Cristo sandwich (17LE) isn't anything to write home about, the
turkey and Swiss cheese combination is not a common find and is routinely good
here. Euro Deli also offers quite a mean burger, although the bread can often be
stale, too.
Euro Deli also
boasts a wide-ranging selection of coffees and juices. While the coffee's
standards are not the best, the espresso con panna (12LE) is a decadent caffeine
fix with its dollop of whipped cream gracing the top. A gratifying iced tea is difficult to find in
this city and while Euro Deli's isn't the worst, it's definitely not the best.
Its puny size isn't enough for that iced tea fill.
Seeing as how
Euro Deli's staff differs from location to location, there's usually not much to
complain about. However if you happen to visit the Maadi branch; something has
recently changed in the kitchen and although we don't know what it is; the food
has most definitely suffered.
If a quick,
no-fuss bite to eat is what you're looking for, Euro Deli is there. Their restaurants resemble a café ambience that's not worth a sit-down dinner;
so their delivery service is recommended.