Fandira: Classy Seafood Takeout in Maadi
10, Road 4, next to German Nursery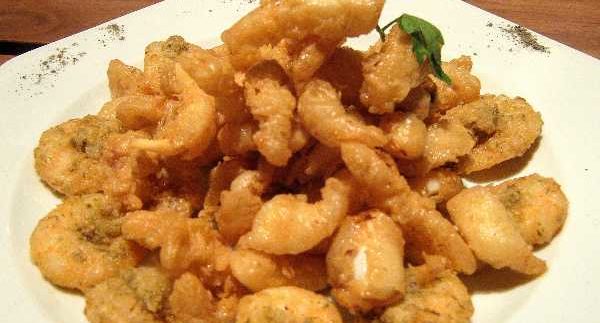 You just got home. You're tired after an
hour of ruthless Cairo
traffic, and you have friends coming over for dinner. You'd like a decent
seafood meal but you don't have the energy to cook. What to do? Enter Fandira,
a speciality fish takeout and delivery venue that produces delicious seafood with a contemporary edge.
Promising 'freshelicious seafood delivery,'
Fandira is located on the ground floor of an inconspicuous building on Road
Four, Maadi. Intended as a takeout and delivery outlet, Fandira is impeccably clean and well ventilated; lacking that fishy smell usually associated with your regular baladi fish monger. The venue has a sole
wooden table for you to wait at while your order is being prepared; though you
may end up eating it all up right there once you get a waft of your delectable
order.
Aside from traditional Egyptian
seafood meals such as fried calamari with sayadeya rice (22LE) and red snapper
(78LE per kg), Fandira offers classy fish
dishes, such as roasted salmon steak, mixed seafood in a Thai red curry with
rice (40LE), and Thai fried rice with shrimps (18LE).
You can order your fish by the kilo and
choose the style of cooking from the traditional grilled with radda option to
the salmoriglio marinade. The outlet also offers soups, appetisers and salads,
as well as three special sauces to dip the sumptuously crunchy fried shrimp and
calamari (60LE) into: shrimp cocktail, lemon butter and tartar (2LE per
container).
While we've heard rave reviews about
Fandira's sandwiches– the fried shrimp with tartar dressing and the Mexican shrimp
(25LE each) are also strongly recommended– this venue's forte is in its
speciality meals.
The scallops wrapped in beef bacon with
mushrooms and peas ragout (80LE) are served with a side of steamed basmati
rice. The scallops are fresh, appropriately juicy and contrast very nicely with
the crunch of the beef bacon, though they work just as well without it. The mushrooms and peas ragout provides a smooth and creamy sauce to emphasize
the scallops' taste.
The stir-fried prawns (40LE) had us licking
our fingers with delight: drenched in a sweet garlic pepper sauce, the prawns
are cooked perfectly with a side of steamed rice.
Any fish connoisseur worth their grain in
salt can probably attest to how difficult it is to find a perfect salmon steak
in Cairo. While
most restaurants in this city tend to overcook it to the point of tears,
Fandira's salmon steak (60LE) is grilled to the point of pink perfection with
the skin still on one side, thus retaining the substantial juice and flavour of
the fish. A side of basil mashed potatoes and spinach, and a very delicate cream
brushing on the steak match the salmon's flavour nicely without overpowering it.
Fandira's soya glazed tuna steak (80LE) comes
with tangy-sweet and grilled eggplant, and the optional addition of orange to the marinade. Like
salmon, tuna is very easily overcooked; yet here at Fandira, the steak keeps
its pink colour and thus its flavour.
A testament to the quality of fish is how
edible it is a few hours later. Fandira's flavours are still spot-on one day
later, a good sign that this is a quality source of fish delivery; which
shouldn't be surprising considering that one of the venue's partners is
a Four Seasons chef.