Farah: Kawaraa Soup and Stuffed Pigeon in Mohandiseen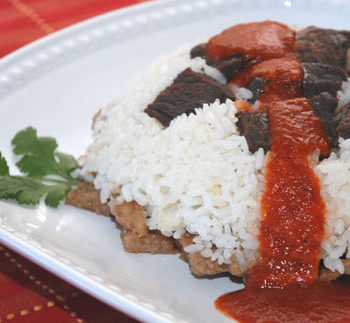 There's no shortage of options in
restaurants and cafés in the Cairo neighbourhood of Mohandiseen, especially on Gamaat
El Dowal Street. There are dining venues left and right, all trying to
out-flash each other to catch the attention of passersby. Situated at the Sudan
Street end of Gamaat El Dowal Street, Farah is one such restaurant.
Outside the venue is a large shawerma spit and
outdoor seating, the only seating available. One thing that characterises Farah is the
amount of customers swarming it, especially late into the night. The menu
encompasses all the types of grills, fattas, tagines and sandwiches that you
can possibly think of. One kilo of kabab will cost you 160LE and one kilo of
grilled sirloin costs 140LE, while kofta costs 88LE and stuffed pigeon costs 28LE
per bird. Farah happens to be one of the few places in Mohandiseen that serves
kawaraa (shin of beef) soup (15LE). A shawerma flatbread sandwich will cost you
14LE, while various fish and shrimp sandwiches are priced between 15LE and 28LE.
We chose to start our meal with a serving
of taboulah (5LE), but were disappointed to find that the bulgur tasted a
little off and wasn't fresh. Despite that, we were pleased with the
complimentary tehina and tomeya, which tasted fresh and homemade. We went all
out and ordered the feshenkaah dish, which gives you a mix of different grilled
meats, mahshi, breaded chicken, mombar and French fries (35LE). Out of the
selection of mahshi, the aubergine stood out, while the stuffed vine leaves were
a little undercooked. The shish tawouk and the mombar were by far the best on
the plate, though; both were cooked and seasoned perfectly. On the other hand,
the kabab and the kofta lacked seasoning, taste and were a little undercooked.
We also tried Farah's shawerma fatta
(20LE), which is one of the best examples of the dish that we've ever had.
Available with either chicken or beef shawerma, the toasted baladi bread pieces
and the broth-drenched rice were perfectly cooked, full of flavour and served
hot. We definitely recommend the dish.
Other notable dishes include a
60LE platterof shrimp, scallops, steak and baladi-style brain, the very
Egyptian dish of livers and gizzards for 40LE and grilled rabbit for 50LE. The
atmosphere of the outdoor seating at Farah is pleasant; and although it isn't
ideal on winter evenings, fans of traditional Egyptian cuisine will keep coming
back.