Fattoush: Affordable Lebanese Fast Food in Citystars
CityStars, Omar Ibn El Khattab St., Zodiac Food Court, Level 4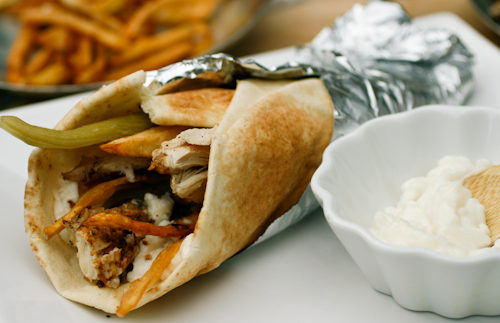 After a long day of shopping
at mammoth shopping mall Citystars, one always yearns for a good meal to
refuel. So we decided to try some Lebanese food to get us going.
Located on the fourth
floor, Fattoush serves up authentic Lebanese food and the menu features a lot
of enticing options. Lebanese salads like fattoush and taboula are available; other
options include garlic dip, tehina, coleslaw and pickles. The menu is only
available in Arabic, so it would make it difficult for non-native speakers to make
a selection.
To us, ordering
Lebanese food always entails ordering our all-time favourite mana'eesh.
However, we were majorly disappointed when we were told it wasn't available.
After much thought, we
ordered a small plate of stuffed vine leaves (12LE) and cheese sambousak (9 LE)
to begin. The Lebanese way of preparing vine leaves differs slightly from the
Egyptian one; Egyptians normally have this dish as a main course and is served
hot, whereas the Lebanese version is served chilled, as an appetizer, with
lemon and olive oil.
We liked the stuffed
vine leaves, but we still prefer our good old Egyptian way, and we were quite
annoyed at how drenched it was in olive oil.
The sambousak could
easily pass as the best we've ever had. Four semi-circles were served with
small fried pieces of shami bread; dipping the sambousak in the garlic dip made
for an amazing combination. However, we were mildly disappointed at how greasy
they were. Other sambousak fillings include the much-lighter spinach or minced
meat.
Fattoush also offers
Lebanese grilled meals. A kilo of shish kabab will set you back 179LE; while kofta,
grilled chicken and shish tawouk are also available. All main courses are served
with a side of rice and salad.
We also ordered the
chicken fajita sandwich (18LE); the sandwiches are normally prepared using
French bread, but for an extra 2.50LE, you can either have the Saj bread or
Lebanese bread.
The fajita sandwich was
too greasy for our liking; the thin slices of chicken were cooked with black
olives, green pepper and mayonnaise and while we liked the flavour, we disliked
how it dripped with oil. And although it was supposed to be firmly wrapped, the
oil still found a way onto our clothes.
In short, if you happen
to be emptying your pockets in Citystars' shops, but have a growling stomach,
Fattoush makes for an affordable Lebanese option. Now, you probably won't be
blown away by the cuisine, but it will satisfy your Lebanese craving until
something better comes along.