Felfela: Traditional and Tasty Egyptian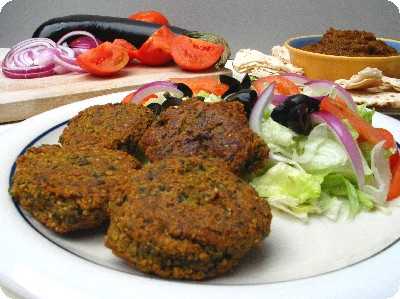 If you're looking for a flavourful, traditional
several-course Egyptian meal that won't cost you an arm and a leg but is nonetheless
a step above most hole-in-the-wall eateries in the area, Felfela's sit-down
restaurant is the place to go. The perfect spot for those that appreciate a
diverse menu in a casual atmosphere, Felfela is often dismissed as a tourist
haunt by many but nothing beats its quality food and very reasonable prices.
Step inside away from the hustle and bustle of Downtown
Cairo and
you're bound to start chanting 'Serenity Now' like it's your mantra. The interior
has bubbling fish tanks on one side of the entrance, and a comfortable dining
area made of dark wood and an ornately carved wooden ceiling. Large, potted
hanging plants are arranged throughout the venue, and for some odd reason a life-size
wooden statue greets visitors at the door; it seems a bit silly but still makes
for a charming atmosphere.
It's best to stick to the basics at Felfela. Ordering
any combination of oriental salads is a great way to whet your appetite; and the
baba ghanoug and tehina dishes are especially delicious. Different kinds of
bread tend to be served on each visit; so it's recommended that you request your
preferred kind, whether it's soft pita, baladi or toast. The waiters are happy
to warm the dipping bread for you if you ask.
In general, the service is good; though it slows to a
near halt whenever the restaurant traffic gets heavy.
If you want to play it safe, hamburgers and some pasta
dishes are available but undoubtedly the best dishes are the foul Eskanderani (Alexandria-style
fava beans), kebda Eskanderani (Alexandria-style liver) and last, but certainly
not least, the molokheya or 'green mallow stew', as the menu reads. The latter
is thick, slightly sticky and compliments a simple plate of rice, French fries
or chicken. The tagine dishes are also worth trying; they're more Egyptian than
Moroccan cuisine but nonetheless tasty. Beware of the foul with tehina, though;
previous diners have found that the tehina drowns the foul's flavour. A small
selection of beer and wine is also available with your meal.
It may be known as a tourist attraction, but Felfela
does offer a solid meal and a nice option for some sit-down foul and taameya.