Filini: Luxurious Italian Dining at Raddison Blu Hotel in Heliopolis
Raddisson Blu Hotel, Cairo Heliopolis

noon - 3pm & 7pm - midnight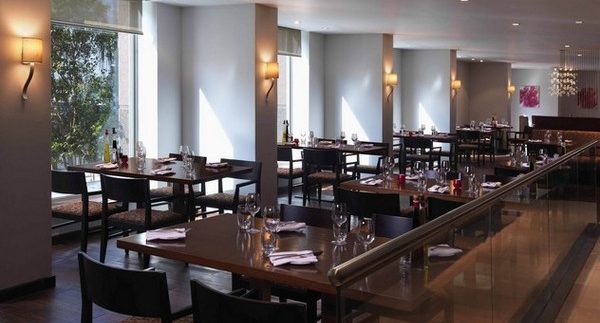 Guided
by a nice hostess who insisted on speaking in English, we entered Filini in
the Radisson Blu Hotel in Heliopolis and immediately noticed the shades of cream and
brown, neat table settings, simple glass beaded curtains and lighting with contrasting
crimson red and pink pictures on the walls. The most eye-catching feature is a
huge round pillar with scribblings of Italian food items.
After
our order was taken, we were served bowls of olive oil and balsamic vinegar,
with a basket of different breads; bread sticks, focaccia bread and small triangular pizza breads which were delightful.
The
menu is one big page printed on both sides, with one whole side just for the
surprisingly long variety of alcoholic and non-alcoholic drinks. They have
everything from red and white wines, to gin, tequila, vodka, whiskey,
champagne and beer. They also offer soft drinks, fresh juices and hot drinks.
The
food menu on the other hand looked very basic, divided into the main
categories: Antipasti, Risotto e Pasta, Secondi (main dish), Pizza Croccante (thin
crust pizza), contorno (Side Dish) and finally Dolce (dessert).
We
opted for bruschetta (30LE), Buffalo mozzarella (50LE) and frutti di mare (seafood)
salad (65LE) as starters.
The bruschetta -with bresaola beef as stated
on the menu- came as one big bread bun with chopped tomatoes on top and generous toppings of olive oil, shavings of Parmesan cheese on one half and with
shavings of bresaola beef on the other half– not very enticing .
The
Buffalo mozzarella was good but a bit tasteless on the grilled bread. The seafood
salad was perfect, though; lovely presentation and colour coordination of
greens, pink prawns, white translucent rings of calamari, lavender cuts of
octopus with balsamic vinegar and coloured peppers. They all were cooked to
perfection with a tasty lemon marinade but no sign of mussels as stated on the
menu.
Then
came our main dishes; grilled lamb chops with tomato and peppers (95LE). We
asked for the dish without the peppers so they were replaced with sautéed mushrooms
instead. They were very tasty with the lamb chops which were piled up in a decorative
circle. It was overall a very tender and tasty dish.
We
also tried the rib-eye steak with balsamic onion, peppers and black olives
(180LE). We asked for it to be cooked medium and it was perfectly grilled on
both sides, pale pink in the middle and very moist. The vegetables were very
tasty but the balsamic onion disappointed.
The
veal saltimbocca (90LE) with linguine pasta in red sauce also came presented
attractively; the linguine was carefully spiralled on the side with thin veal pieces
and a piece of beef ham on top. The dish as a whole was very good but
needed serious seasoning. There was also no sage as stated on the menu.
After
all that we were almost seduced into trying the chocolate fondant (35LE) but we
couldn't eat any more. There
is also a small shisha menu which we were told we could enjoy out on the
terrace – a very pleasant area secluded from the surrounding streets with rustic
wooden tables and comfortable bamboo seating which would be perfect on those coming
summer nights.
Overall,
though the food at Filini was interesting, the occasional missed ingredient
promised by the menu and the high prices may deter some. This reviewer,
however, would have no qualms paying another visit.