Fish Market: Fresh Fish With A Sunset View
Corniche El Nil, Entrance 2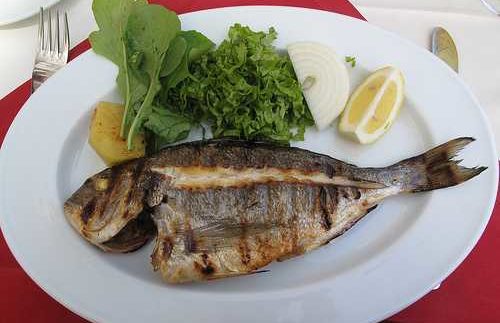 Many fish connoisseurs
believe that seafood should be consumed fresh and within view of water. Fish Market
is a restaurant chain that certainly satisfies both those requirements: the
seafood is fresh and deliciously prepared, and the view of the Nile (from
either the Giza
branch or the Maadi branch) is amazing. One thing Fish Market isn't, though, is
a gourmet seafood establishment; so don't expect much in terms of cooking style
or presentation.
The venue is designed to give
a Nile view to as many tables as possible. The
Giza and Maadi
branches both have highly recommended outdoor seating areas. Décor is pretty much what you would expect
from a seafood place (dangling fishnets, assorted nautical items, blah, blah, blah).
The service is quick, helpful, and attentive, although the place is usually jam-packed,
especially during lunch time on the weekends. No worries, though; you will not
be rushed at any time by the friendly staff.
Let's get to the important
part: the seafood. Walk up to the selection of seafood displayed on ice. Don't
worry about testing freshness; it's all fresh. You then choose the type of fish that you want, and the way you want it
cooked: fried, broiled or prepared with oil and lemon.
While your food is being
prepared, a waiter will serve you with a large platter of several mezzas and
salads. While the fish really is delicious, you don't want to miss out on those
mezzas and salads, served with freshly baked baladi bread. The tabboulah, tomeya, and pickled aubergines
are wholeheartedly recommended.
We selected fried Jumbo
shrimp, and a sumptuous-looking sea bass for our main course. The jumbo shrimp was fried and the sea bass
was prepared with oil and lemon; both were mouth-wateringly good, even after
having stuffed ourselves with the salad and bread. Additionally, we ordered fried calamari as an
appetiser (it's not on display with the rest of the seafood but available on
the menu) and some clams; both appetizers are definitely not to be missed.
Skip dessert altogether;
there's nothing particularly appealing on the dessert tray, but you could
definitely end your meal with some hot tea with mint.
Fish Market offers a simple
and consistently good fish meal; it's highly recommended if you are a lover of seafood.