Floor 10: Kempinski Nile Hotel Does It Again
Kempinski Nile Hotel, Cornish El Nil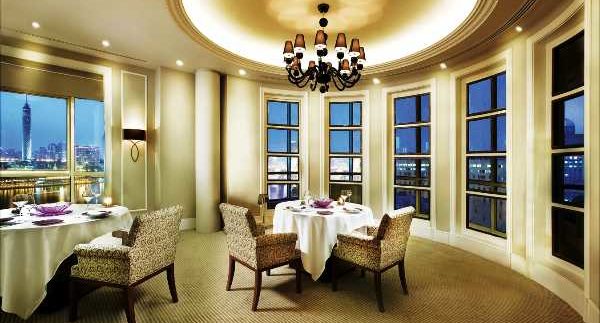 While many tried
and tasted restaurants in Cairo have produced so-so reactions in this
reviewer, every now and then, a restaurant sends us into a state of speechless joy. This restaurant is Floor 10 at the Kempinski
Nile Hotel.
We arrived at the restaurant prepared to be difficult to
please. After all, the hotel's Turkish
restaurant Osmanly
had earned Cairo 360's first perfect score; surely, the two highest scoring
restaurants in Cairo can't both be at the Kempinski?
They are. One bite of our foie gras amuse bouche, and the
rest of the night became a blur of heavenly bites and sumptuous flavours
sending us into a state of happy food stupor.
Forget the sophisticated dining space's tones of cream and
brown, its incredible Nile view and meticulous service; we were immediately
sold with our foie gras amuse bouche (120LE). Two perfectly seared slices of foie gras rest prettily on chicory, a
rich xeres sauce and orange essence. Those two bites sent this reviewer into a
momentary state of shock, and when no one was looking, we lapped up the
remaining sauce with freshly baked brown bread.
Our first course of scallops in cumin-scented carrots and
jasmine-soaked raisins (110LE) momentarily brought us back to earth. Though the
scallops were cooked to pink-button perfection, the strong cumin spicing
overwhelmed the scallop's juice. Our
dinner companion's order of rabbit terrine (90LE) was a completely different
story. Perfectly formed on a small plate, the rabbit was surrounded by crisp
micro greens, pistachios and dots of wholegrain mustard dressing. The addition
of the pistachios was inspired, as it added both texture and a welcome nutty
note that complemented the rabbit well. The dish was so impeccable; it had our
companion singing its praises for the rest of the night, and days later.
For our second course, our charming hostess Florence
recommended the lentil & foie gras soup (80LE). Although we'd intended to
share this soup, somehow the creamy butter and black lentils, chopped chives
and foie gras had us elbowing our companion out of the way for more. Although it might have been a little too
heavy on the butter, we appreciated the way that the black lentils' flavour
blended so well with the rich cream and chives.
Our third course of John Dory (140LE) was a beautiful dish
of scallops, crab cannelloni, fennel and sauce vierge. Although it was supreme
with a rich buttery sauce, the dish's flavours were one-dimensional when
compared to our companion's order of veal loin (170LE). Perfect slices of
roasted veal loin lay on top of Persian-flavoured risotto, pureed dates, tomato
jam and xeres sauce. Cooked sous vide to
tender perfection, the veal's flavour stood up well to the delicate spicing of
the risotto, which included lime, jasmine and star anise spicing.
We ended our meal with the meringue (45LE), which arrived in
a roll perched on top of three scoops of strawberry, peach and spicy sorbet and
peppered with spicy flecks of raspberry and blueberry. The spices reminded us
heavily of German Lebkuchen, which made this dessert perfectly nostalgic for
our palates.
Floor 10 offers a very imaginative dinner with sublime
gourmet dishes that warrant accolades for their artistic arrangement alone.
This is fine contemporary dining at its best in Cairo, and though no Michelin
Star has been awarded to a restaurant in Egypt yet, Floor 10 would definitely
be our top contender.