Florencia: A Touch of Spain on the Nile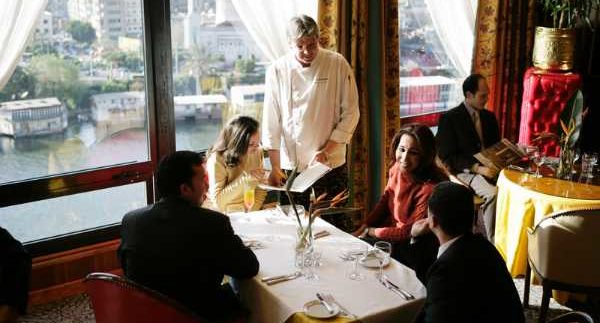 Zamalek's Hotel
Flamenco is laced with Spanish influences, both inside and out, with
whitewashed walls and unimaginatively thematic names for its restaurants, such
as the Carmen Pub and the Sevilla Bar. Therefore,
its Nile-view restaurant was especially intriguing, being one of a few, if not
the only, Spanish restaurants in the city.
Our arrival at the empty restaurant felt like a scene out of Beauty
and the Beast when the dusty dinner-wear stepped into play. We'd
heard the place featured a live classical band that wasn't there during our
visit; so the restaurant played Bob Marley over the speakers instead (until we
asked them to please stop). However, the
view of the Nile from the restaurant's windows
was pretty spectacular, overlooking Kit
Kat Square and all the houseboats, and somehow
compensated.
For an appetiser
course, the champinones al vino blanco (28LE) were amazingly tasty, meaty and
flavourful mushrooms in a nice gravy that was perfect for bread-sopping. We were less enthusiastic about the gambas a
la plancha (115LE)– not that there was anything wrong with them, but at 115LE
we would have expected more than six undeveined and overcooked jumbo shrimp in
garlic and herbs, with a side of roasted veggies and a scoop of what looked
like leftover paella from our main dish.
For a main
course, the paella Andalusia (70LE) wasn't
really paella; it arrived in a paella pan, but hadn't been cooked in it. Again, nothing was wrong with it, but perhaps
it was more of a seafood and chicken risotto dish with some parsley and herbs.
For dessert, the
crema catalana (22LE) was phenomenal, pre-made and refrigerated, but still a fresh,
thick and creamy custard in the style of Spanish crème brûlee. They also stocked a nice selection of both
local and French wines, and all the top label liquors for various drink
mixing.
Service was
polite though barely there in the classic dining room that was a throwback to
70s glamour, and just a tad too hot, not having localised AC. We were left to dine intimately and
peacefully watch the hectic world outside among the large chandeliers. This
restaurant would be a perfect place to enjoy a fabulous Cairene sunset at, as
the panorama cityscape is extraordinary.