Flying Fish: Cairo Seafood Out of This World
166 El Nil Street, Agouza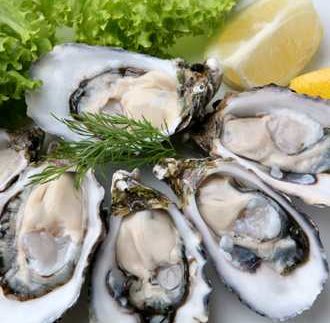 If ever there was
question whether Cairo seafood was up to par, or
comparable to that of the North Coast or the Red Sea,
one spoonful of glorious Flying Fish soup banishes all doubt. The chunky,
richly flavourful stew had us moaning with delight, wishing for neighbouring
real estate, and wondering how we would make room for the courses to come.
Flying Fish is
located on a lonely stretch of El Nil Street in Agouza, without any neighbours (alas!)
and looking highly suspect. However, those
in the know have been coming back to this Cairo institution for years, ignoring
the nondescript exterior and neon sign for the refined service and brick, brass
and leather undersea motif that's half 1930s smoking room, half art deco. Definitely a rarity, this restaurant even has
its own live crooner, belting out smooth classics in Arabic, and now makes our
list of places to come back to as well.
The waiter wasn't
rattled at all when we pestered him to fill in all the details that the menu
didn't, and he courteously described all the dishes until we settled on the
amazing Flying Fish soup (20LE), raw oysters and grilled oysters with celery and
garlic (normally 30LE for twelve of either, he kindly offered us six of each),
a fantastic green salad (6LE), and one main of grilled fish fillet (27LE) with
a side of browned rice (5LE).
The already celebrated
Flying Fish soup comes in a heavenly, parsley-infused broth with a plethora of
succulent fish, shrimps, calamari and the like. Easily a meal on its own, it's the perfect antidote for a grey day, and
quite possibly cures all manner of illness as well (or so we'd like to
believe).
Stay away from
the raw oysters if you like yours small and delicate; as the Egyptian variety
comes large, muscular, and with its last meal of various sea foliage
intact. That's not to say they aren't
still fresh and tasty. However, the
grilled ones make for a nice appetiser, with the flavours of celery and garlic masking
any remnants of fish and easing the minds of anyone wary of raw meat.
The green salad was
a nice portion of refreshing vegetables with a light dressing of lemon juice; a
welcome tangy balance for all the fish. The browned rice too made for a good side dish to the platters of
seafood that was basic but filling.
The grilled fish
fillet came in two slabs of thick fish, and it was fresh and tender except for
the side that they had been grilled on, which was a bit charred and tough. Next time, we'll try the whole grilled fish,
in hopes that the skin will preserve the meat and keep it soft.
Not satisfied
with just one dessert, we sampled both the black forest cake (10LE) and the
chocolate mousse (10LE). The cake was a
bit stale and slightly dry, but still decadent with nuts. The mousse was less of
a mousse and more of a giant truffle made to go straight to the heart; but a
few spoonfuls are all you need to finish off a great meal.