Flying Fish: Charming Seafood Restaurant in Agouza
166 El Nil Street, Agouza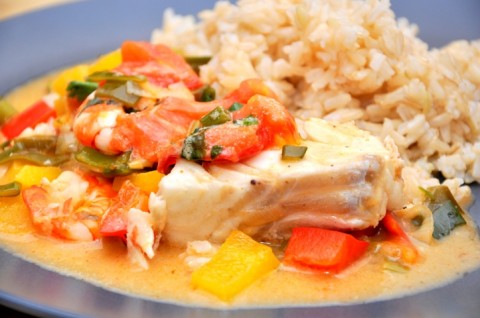 A lot can happen in
two years. Revolutions, earthquakes, elections,
more elections and the miraculous death and resurrection of a former president. Since so much can happen in two years, we
always like to to pay another visit to venues we visited a while ago to see
if they are still up to par – or perhaps improved, or even gone downhill.
One restaurant that
definitely hasn't lost its star rating is Flying Fish in Agouza. The interior
of the restaurant most likely hasn't changed since the opening and from the
looks of the furniture it was probably sometime in the eighties. However, the
entire restaurant does look meticulously clean and even the smallest edges and
ridges have been dusted off. The restaurant reminded us of family diners when
we were young which elicits a feeling of comfort. The ottoman paintings and
flying fish on stained glass don't exactly make sense but who cares, really.
If you choose to
dine there then you should absolutely opt for the Flying Fish soup (24LE). The
delicious broth was filled with different kinds of fish like cod, calamari and
shrimp; it's a full meal on its own. Also, don't miss out on the fish salad
with mayonnaise (10LE) because it will be the best mayonnaise-calorie-bomb you'll
ever have in your life. You can also combine a plate of shrimp kofta (17LE) and
calamari (23LE). Kudos to Flying Fish for originality with the shrimp kofta. With the tartar dip on the side, it makes for a
zesty dish. The calamari was cooked well and wasn't rubbery as we tend to find around the city.

The grilled shrimp
(55LE) was deliciously marinated and grilled. The Flying Fish Bram (30LE) is a
stew with grilled fish, calamari and rice inside topped off with mozzarella
cheese. Though the combination might not sound appealing, the taste most definitely
was. The stew was a bit spicy which perfectly balanced out with the soft texture
of the mozzarella. At 31LE, the grilled fish comes very cheap; you receive two
big filets with herbs, but while it was grilled to perfection, the flavour was
slightly lacking.
The best part about
Flying Fish though, is the service. The waiters are extremely polite and
professional and are always up for a little joke and banter. Combined with the meticulous conditions of the restaurant, it makes for a perfect combination. Flying Fish is an absolute gem and is
well worth a visit for fresh seafood dishes.