Fratelli la Bufala: Authentic Italian Dining in Cairo Festival City Mall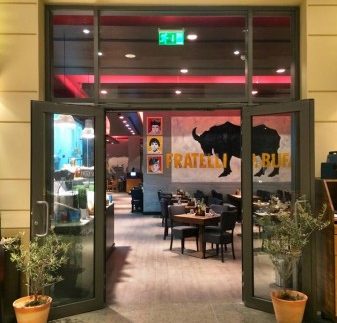 More often than not, Italian food in Egyptian restaurants ends up only remotely resembling the real thing; bready pizzas, pastas with questionable sauces and caprese with the wrong cheese. We did, however, manage to find one that ticked all the right boxes for us when it came to the authenticity of its dishes in New Cairo: Fratelli La Bufala.
Overlooking Cairo Festival City's dancing fountain, the spacious restaurant offers both outdoor and indoor seating; both of which are equally tempting. The indoor décor is Mediterranean-inspired – more Spanish than Italian – with soft lighting and wood and iron panels that gave it a modern, yet nostalgic, air. We opted for the outdoor seating.
The menu was filled with pages of traditional Italian treats. The appetisers included some Italian salads, including La Bufalata and La Mozzata, which is fit for a large group wanting to share, as it features a large 500 gram piece of Mozzarella cheese. We also spotted some Bruschetta and Carpaccio. The main courses ranged from pastas and pizzas, to meat-based dishes, Risottos and, surprisingly, burgers.
As soon as we placed our orders, our table was garnished with a hefty bread basket. We immediately started munching on the doughy delights and used the olive oil and balsamic vinegar already. Our food arrived a little while later and to say it was pure eye candy is an understatement.
Our Caprese (65LE) – layers of tomato slices and mozzarella cheese sprinkled with basil and oregno – was delightfully light with, perhaps, some of the most delicious tasting mozzarella cheese we have ever had in Egypt. Our just-out-of-the-oven Neapolitan pizzas were just exactly that; thin-crusted, covered in real mozzarella cheese and baked to perfection in a wood-fired oven. We had opted for the Margherita DOP (67LE), a simple, traditional margherita pizza topped with some porcini mushrooms. We also went for the Diavola (60LE), which is topped with beef salami and fiery spices, which was pleasingly spicy and absolutely scrumptious.
Our pizzas were so dense and satisfying that we couldn't even glance at the dessert menu, which featured quite an array of alluring options. We spotted some tiramisu, cheese cake, fruit platters, graffa, apple tarte and ice cream.
Fratelli La Bufala satisfied all our Italian cravings with its quality dishes; we fell in love with their mozzarella cheese and mouth-watering pizza dough. Our waiter was exceptionally helpful and quite fun to talk to and the whole place was impeccable. Sure, we paid a little extra for a simple salad, but it was absolutely worth every penny. Next time, though, we're leaving room for dessert.