French Cultural Centre: Authentic Crêpes in Cairo
1 Madrasset El Huquq El Frenseya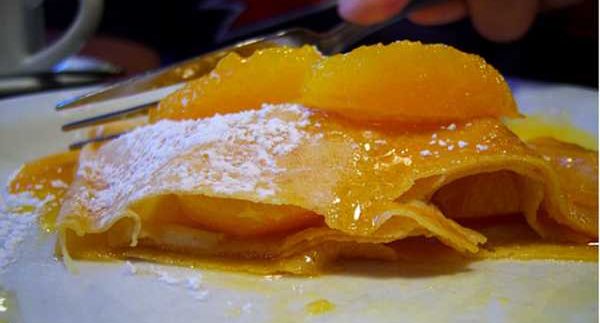 Located in Mounira, Cairo's
French Cultural Centre (or the Centre Francais de Culture as Francophone
Egyptians know it) houses facilities for language courses, film screenings and
a library. The centre is also home to one of our favourite aspects of French
Culture; a quaint outdoor bistro.
The French Cultural Centre's restaurant sits in a central courtyard of
the facility. Shaded by umbrellas, about
a dozen tables make up this charming eatery that is open for lunch Sunday
through Friday until 4PM. Friday afternoons often find the restaurant crowded
with regulars; so arrive early to get a spot amongst the French expat families
enjoying a leisurely brunch and the students sipping coffee while using the
centre's free wireless internet.
The exceptionally well-priced menu consists mostly of simple French
dishes, a few Egyptian plates and some Italian options for good measure. The
menu easily accommodates those looking for a quick snack as well as customers
with a hearty appetite.
Starters include 6LE-cups of
soup, such as the onion soup, a savoury broth filled with tender, sweet onions. The
broth is a bit on the oily side, but the thick slice of baguette with melted Emmental
is a delicious treat at the centre of the cup. A variety of salads (around 20LE) are available and filled with meat and
vegetables in generous portions.
Lighter appetites will find the panini and gallete selection more than
satisfying. Starting at around 12LE (and
nearing 40LE if you want a gallete filled with smoked salmon and crème fraiche),
the grilled sandwiches and savoury crêpes include a mix of both local and
imported ingredients. The dishes are served with fries or a small salad of
romaine, tomatoes and cucumbers in a rather weak but pleasant mustard dressing.
Heartier entrées include a few pasta dishes, chicken pané and tawouk–
which isn't recommended– along with seafood and steak for under 40LE. For 38LE, a fillet is served with rich
peppercorn sauce and a choice of sides. While the greens were overcooked, we
recommend the roasted potatoes. A little overdone and a bit fatty, the steak may
not be the best that you've had; but it is a great deal considering the price
of the dish.
Desserts include ice cream, mousse and a long list of sweet crêpes such
as Nutella or the sweet and tangy butter, sugar and citrus. The crêpes are delicious, just as we would
expect from the French Cultural Centre, and well-priced at 11.50LE and above.
Americano coffees are strong and delicious and at 6LE, some of the
cheapest coffees that we've found in Cairo. At 4.50LE for a
large water bottle and 3.50LE for a Coca Cola can; the mark-up on the products here isn't
nearly as high as it is at other restaurants.
Although the wait staff may seem a bit lackadaisical from the slow
service, they are nonetheless thorough. It took the length of the meal to find
out, but we were informed that they do indeed serve ham in a good number of
dishes at the French Cultural Centre.