Fuddruckers: Decent Food, Slack Service at American Diner Chain in Maadi
0225200484,0225200523,16226,0225200542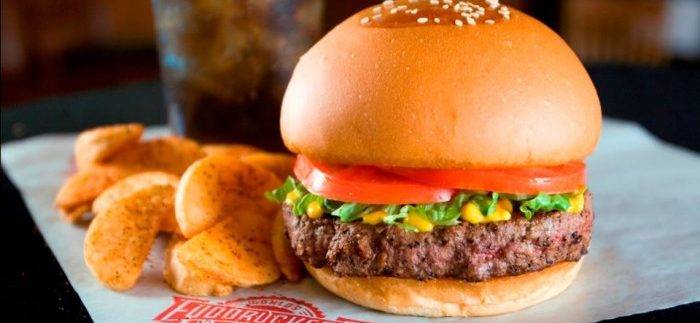 Among the family-favourite Cairo dining is Fuddruckers, the 'All-American diner'. Come to think of it, most of the family weekend lunch restaurants are American diners. Regardless of how or why that particular cuisine became their most favourite, these diners are known for some top notch burgers and tex-mex appetizers.
We dropped by the Maadi branch of Fuddruckers to check in on the food, and more importantly, the service—current popular opinion of Fuddruckers is very harsh on the service, so we figured we would give them a chance to redeem themselves.
The restaurant wasn't as crowded as it usually is on the weekends, allowing you to see more of the typical diner decorations with yellow walls and blue outlines mimicking the restaurant's colour scheme. Other props and memorabilia are hung on the walls in typical diner fashion.
We were greeted by a waiter who led us to our table and laid out our menus. We proceeded to pick out some of our favourite dishes including Appetizer Platter (62LE), a Fillet Steak (139LE) and, of course, a 2/3 Lb The Works (62LE)—we were heartbroken to find out the one pounder burger has been discontinued.
Tex-mex appetizers take no time to prepare, so we got very impatient when serving us took upwards of thirty minutes and more so when it was all served together after forty five minutes.
Not a good start, but let's examine the food. The Appetizer Platter consists of chilli cheese fries, onion rings, mozzarella sticks, buffalo chicken wings and quesadillas. Our favourites were definitely the fries which were both tasty and plentiful, and the Buffalo wings which were perfectly messy and spicy. The mozzarella and onion rings were nothing special, and quesadillas were falling apart.
For all those concerned about the burgers, we're happy to tell you they're doing quite well. The bread is fresh, the patties juicy and the toppings plentiful and tasty. Rock solid burger, plus the wedges are pretty awesome too.
The steak, on the other hand, didn't fare so well. So, 139LE for a 220g steak is quite a lot, so from the get-go it's under a lot of pressure. Add to that the fact that it was served well-done when we asked for medium-rare and you have yourself a large waste of money. The seasoning, the taste of the meat itself, basically anything that contributed to it being so expensive was lost from a few extra minutes of cooking. The staff apologized about the mistake, but the dish wasn't replaced.
We see why Fuddruckers' service has been under such heat. It's no good. Taking way too long to serve food, not compensating for their own mistakes, and charging far too much for otherwise charred meat. While the burgers are still good, we can't imagine how bad the service gets on the crowded weekends.