Fuego Grill and Sushi Bar: Fusion Food for Thought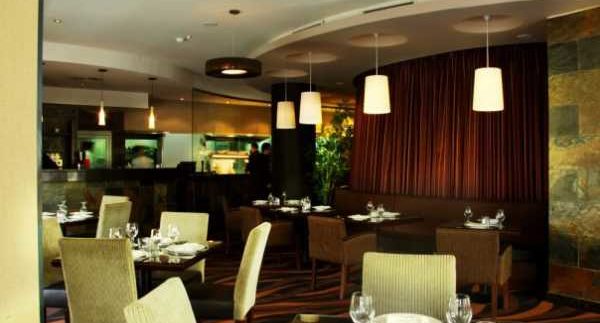 Don't let this California-inspired eatery's location in Maadi's Bandar Mall deter you: while it is necessary to wade through the shabby looking entranceway past a Chili's chain and Bandar's bowling alley, what lies on the second floor is a far cry from the typically loud and tacky mall experience.

Fuego Grill and Sushi Bar brings a taste of the American Southwest to Cairo with an assortment of steaks, salads and the all-important sushi—a favourite California combination. Past the engraved glass entrance and handsome dark wood décor, modern artwork lends an Asian-fusion feel particular to West Coast casual chic. Part formal-dining, part diner-kitsch, Fuego offers a comfortable balance between everyday dining and a more formal occasion. If you're looking for a relaxing experience, visit Fuego in the afternoon when sunlight streams in through large picture windows, illuminating high ceilings and grandiose fixtures.

The menu is infused with no-frills entrees that nonetheless deliver flavour—the steak salad is a delicate surprise of thin cuts of beef over spinach sautéed with diced tomato and garlic. Vegetable side dishes serve as tasty accompaniments to many main dishes, a testament to Fuego's emphasis on the details of the dining experience—while keeping it simple.

Overall, the menu speaks for itself: tender salmon fillet, seared quality cuts of New York steak, brazed chicken and scallops are all served in generous portions, guaranteed to satisfy the palette of those fond of homemade American cooking. Desserts include chocolate soufflé with strawberry garnish, crème brulée, tiramisu and rich cheesecake with a variety of toppings.

Here's a question: how fused is this fusion? Between the Sushi/Asian vs. California/Grill menus, meals take the risk of being a little disjointed. The sushi menu is decadent, with choices ranging from the standard California roll to house variations. Japanese green tea, appetisers of edamame bean and clear soups are also available. Cracked glaze dishware host artful arrangements of roses, legume butterflies and cranes, adding to the sushi experience. If you want to go all the way, eat your sushi at the bar, where patrons can sit and experience yet another staple of fusion cuisine.

Reservations are recommended on weekends and evenings as crowds can cause some unpalatable delays. Expect to lay out around 250LE for a three-course meal for two.