Fusion: Swanky Digs, Shame About the Food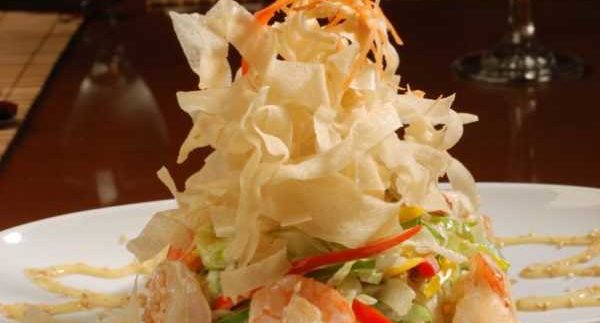 Next to TGI Friday's on Maadi's corniche, Fusion seems to have potential, if you can overlook its generic neighbour, with a well-lit shared garden patio. My outing promised to be at a gorgeous venue by the Nile with classy seating and delicious sushi but ended up being exorbitantly overpriced and made me never want to go back.

Arriving after dark, there wasn't much to see to appreciate its location, and it was hard to visualise the Nile's daytime charms, though I'm told the sunset view is spectacular.

The staff is as confused as they are over-accommodating. When we finally established that we were ordering off their menu (you have the option of ordering from TGI Fridays – which they don't enjoy – or eating inside where the Japanese-style chef will grill your food right before your eyes as you take in the sleek interior) we had trouble deciding what it was we wanted off their expansive and expensive menu.

My date and I finally agreed we both fancied sushi and ordered one of their quite large sushi platters, and as I had a craving for steak we also chose to sample their meat menu which came in several courses and featured two steak dishes.

The sushi was fresh, tasty, simple, and everything sushi should be, but what were supposed to be steaks were in fact indecipherable bits of shrivelled meat doused in sauce and completely disappointing for the 150LE price-tag.

The accompanying courses to round out the meat menu were forgettable (things like pickled vegetables, lettuce salad, etc.) as evidenced by the fact that I've forgotten them. By the time the waiter took away my mango juice before I had finished it and brought us the shocking bill of nearly 450LE, I was ready to split.

The experience was just as generic as if I had gone to the neighbouring chain, only with a heftier price-tag, and only after we left did I realise they hadn't even brought us our included dessert of fruit salad, putting the bitter cherry on top.