Gabriel: Chic Italian Restaurant in Mohandiseen
30 Abdel Moneim Riyadh St.,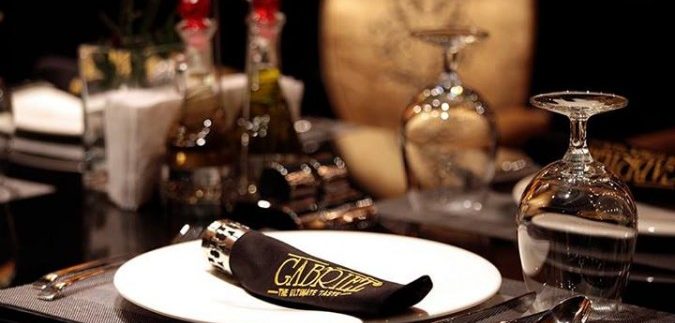 Arguably one of the most popular cuisines in the city, Italian restaurants in Cairo continue to pop up across the city. Claiming to provide an authentic Italian dining experience, Gabriel is a recently opened, higher-end restaurant in Mohandiseen.
Dimly lit and spacious, the venue features a chic décor and relaxing ambience, with the black and gold colour scheme going a little overboard with black and gold wallpaper, chandeliers and even the menu.
Sitting on light-coloured, contemporary modern chairs with contrasting dark table tops; we tried to avoid listening to the playlist of old French and Italian songs that were the restaurant's attempt at mustering a classic European ambience. With a sigh of relief upon hearing the music muted, an in-house pianist appeared to play a repertoire of lounge favourites, on an upright piano tucked in a corner near the venue's entrance.
Although promoting itself as being primarily an Italian restaurant, the menu also features plenty of international dishes, including steaks and chicken platters, shrimp konafa (41.50LE) and chicken liver (29.50LE), amongst other things. As a way of fusing the range of cuisines, the chefs here cook tagines that feature Italian specialties such as Risotto (62.50LE) and cannelloni al forno (57.50LE), baked in traditional Egyptian style.
In their soup section, a variety of steaming bowls are served including classic minestrone soup (16.50LE), potato and cheddar cheese (16.50LE), as well as tomato (14.50LE), amongst others. Their seafood soup (LE) is delicious; a perfectly salted, creamy concoction of fish and seafood critters, that impressively included a serving of scallops. We particularly enjoyed dipping into the soup with some of the warm bread sticks and buns that had been brought to the table, along with tubs of herby butter and ground olives.
From their main courses, the grilled chicken with lemon and mustard sauce (69.50LE) was scrumptious, served with aglio e olio spaghetti, grilled vegetables and potato wedges. The chicken itself was prepared to perfection and tender, as well as being lavishly dressed in the zesty lemon sauce.
The grilled beef steak (94.50LE) had been served with a topping of classic mushroom pepper sauce, grilled vegetables and mashed potatoes. The meat was skilfully prepared to our medium request, and was neither too dry nor too pink. Our only complaint was the flavourless mashed potato.
After a long wait, we realised the staff had forgotton the rigatoni shrimp (64.50LE). However, upon realising this mishap, in next to no time we were brought a large tub of garnished rigatoni, mixed with whole shrimps and drenched with a mixed cheese sauce. Although it looked delicious and was palatable, there was an element of blandness to the dish thanks to some ill-seasoning.
Waffles are the restaurants sole dessert, and though we were up for a dose of their chocolate waffles that are also served with orange and almond toppings, we came to find them disappointing. While their consistency was warm and puffy, and the chocolate mousse satisfyingly bittersweet, the almond and orange combination was much too sweet for our palettes.
Although Gabriel attempts to foster a high-end dining experience, what lies behind its façade is only a slightly above average dining experience that fails to bring together the elements of fine dining.