Gad: The Egyptian Standard
Egyptian,Fast Food,Vegetarian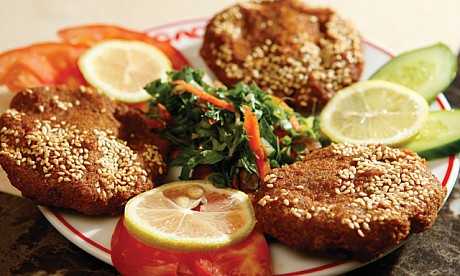 Gad is beloved in all Cairo neighbourhoods for its big red sign and
its tasty, quick foul and taameya sandwiches. The Downtown branch of this Cairo restaurant provides
a new dimension of the Gad experience for diners looking for more than a mere sandwich
off the street.
Gad's sit-down dining room is a great stop for hungry Downtowners
and an excellent choice for a rustic and delicious Cairo-style fetar. Though a
simple restaurant, menu options are quite varied with a wide selection of meat,
fish and chicken dishes along with salads and the standard foul and taameya options.
The upstairs dining room at Gad Tahrir is a no-frills
affair with paper napkins, plastic cups and fast turnover. Drink selections are
limited to water, sodas and fresh lemon, but they are all served ice cold and
make a good accompaniment to the hearty food.
Gad's meal combinations are satisfying and offer great
value. The fried fish plate comes with French fries, salad, bread and the best
browned rice in town. Although the French fries were a little soggy, the fish
was fried perfectly and the salad was fresh with a light dressing of lemon and
oil. The piping hot homemade bread with black sesame is a highlight that comes
with every meal.
Other culinary highlights at Gad include the tehina salad,
and the grilled chicken and kofta plates served with rice, salad and fries. The
main courses on offer make for a satisfying lunch or fetar, while the selection
of salads and the famous foul and taameya are perfect for a light dinner or
sohour.
Fetar at Gad is a festive affair given its location in
the heart of Downtown Cairo, despite a lack of special fetar offers at the
restaurant. Service is coordinated to ensure the prompt arrival of main courses
at fetar time, and bread and water are available in abundance to ensure a
prompt breaking of the fast.
A foul or taameya sandwich will always be the cheapest
bet, but the prices in Gad's dining room are more than affordable. Dinner for
two with drinks tallies up to between 50LE to 60LE.
Gad is very much a local haunt, with waiters and
regular customers engaging in friendly banter. This is part of what makes this
place special; cheap and friendly local hangouts are, unfortunately, a dying
breed in Cairo's
restaurant scene. Once you've experienced Gad, chances are that you will make
fast friends with your waiter and become a regular here yourself!