Garbi: Great Greek Eats at Dokki Restaurant
3 Ibn Al Walid St., (By Shooting Club)
Opening a new restaurant in central areas like Dokki and Mohandiseen these days is a bold move. While 6 of October City and New Cairo are the Cairo's new dining-centres, the hustle and bustle of central Cairo – and the lack of parking spots – isn't exactly conducive to a relaxing dining experience. That hasn't seemed to deter Greek cuisine specialist, Garbi, located near the Shooting Club in Dokki, however.
Divided into two indoor spaces, white is the main theme of whole place with small touches of grey, wood, greens. One of the indoor areas seems a little gloomy, but boasts a relaxing ambiance and we loved the grey patterned chairs. The other, meanwhile, is much more bright and cheerful, thanks to the eye catching glass ceiling with a shattered texture, the white bricks walls and the huge flat screen TVs surrounded by greens.
With a decent variety of food, we had to go with the Greek classics. We started our meal with Bifteki (38LE) as an appetiser, and for the mains we went with Fourno Kotopoulo (72LE) and Souvlaki Kreatos (85LE).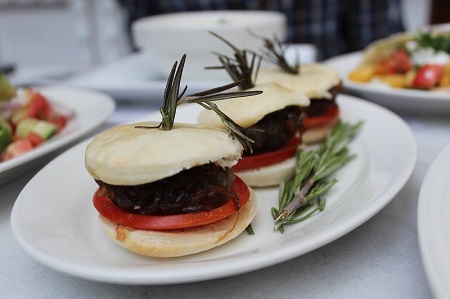 Served in their outstanding pita bread, the Bifteki might best be described a Greek-style sliders and boasted some interesting flavours, despite not being filled with feta cheese as is the norm. The perfectly seasoned juicy patties were complemented by a delicious combination of sweet caramelised onions, which worked perfectly with the tzatziki sauce, and thinly sliced tomato to add some freshness.
Moving to the mouth-watering Fourno Kotopoulo, this tajine of tender grilled chicken cutlets smothered with creamy spinach mixture with bold garlic, olives, and red onion flavours was definitely the star of the meal. Despite the side of white rice being very bland in taste, it was a fantastic dish overall.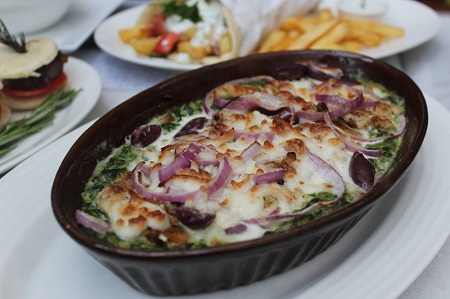 The same goes for the Souvlaki Kreatos – two grilled beef skewers with tzatziki-drizzled vegetables lying on fluffy pita bread. Aside from the beef being a little overcooked and chewy, it was super flavourful and, let's just say, that kids won't be complaining about eating grilled vegetables if it's always seasoned like that. Again, though, it was served with bland white rice.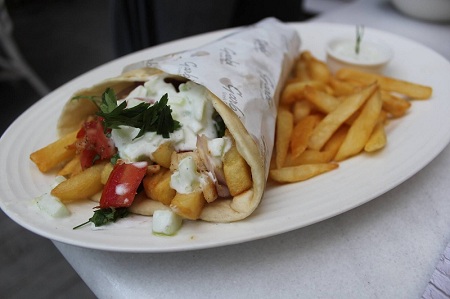 We couldn't resist trying the restaurant's 'Chicken Gyro' (48LE) – and we're glad we did. Wrapped in pita bread, the chicken was marinated well and was bursting with flavours, while the diced tomatos and onions were fresh, with the garlicky tzatziki bringing it all together.
We finished our meal with Rizogalo (28LE) which is a Greek version of Rice Pudding. Topped with nuts, a dust of cinnamon and a drizzle of honey, what makes this Greek rice pudding different from Egyptian rice pudding is that it's not overly sweet, because it relies only on the honey for its sweet kick. The consistency and the texture were tender and the cinnamon was a nice surprise.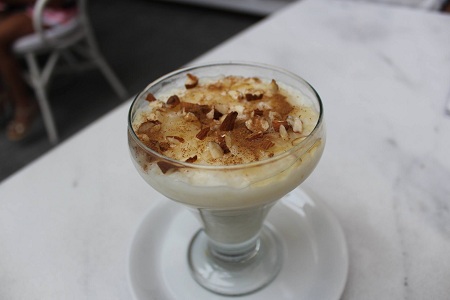 Overall, despite slow service, the food was well executed, looked as good as it tasted and is an excellent example of Greek cuisine. Despite its parallels to Egyptian cuisine, Greek food is criminally under-represented in Egypt, but with Garbi on the scene and the Greek still enjoying popularity in Maadi, don't be surprised to find more Greek restaurants popping up across the city.