Gaya: Maadi's Korean Corner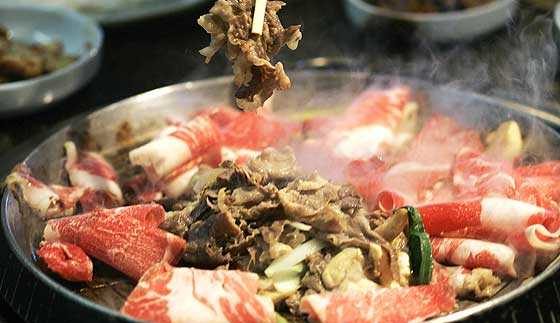 It's always a
good sign for a restaurant in Cairo
to be staffed with employees that hail from the cuisine's respective region. It's an even better sign when the same can be
said for the majority of the restaurant's clientele. With this in mind; you can
be sure that Gaya
serves up some truly authentic Korean cuisine.
For years, Maadi
Degla's Gaya
has been a hot spot for the Korean expat community. The simple yet attractive
dining room is often packed with patrons looking for honest Asian dining. The
menu is predominately Korean, yet Chinese and Japanese items are also available,
including dim sum and sushi.
Gaya makes their tofu fresh daily, so if you fancy a bowl
of miso soup; this is your destination. At 11LE a bowl, the dark miso broth has
a lot more soul than we find in miso at other restaurants in Cairo. The soup's rich flavour is enhanced by
plenty of seaweed and a generous amount of silken tofu. We recommend the
soothing miso soup over the spring rolls (14LE for four pieces). While the roll's vegetable filling is
sweetened with onions and the skin is crispy on the outside, there is a layer
of dough that is left rather undercooked in between. Keep in mind when you
order that bowls of cold kimchi and pickled bamboo will also be served as
complimentary starters.
We also found the
garlic shrimp (44LE) to be a little disappointing. The dish has much weaker
flavour than its aroma implies: neither the garlic nor the shrimp tasted of
much, although some mixed vegetables added brightness to the dish. For bold flavours at Gaya, we recommend the
fried kimchi with tofu (40LE). Sprinkled
with sesame seeds, the warm kimchi is bright red and quite spicy– some of the
best that we've had in Cairo.
The delicate tofu makes for a nice balance to the dish. Served with or without
beef, it is a great option for vegetarians and meat lovers alike.
A number of rice
and noodle dishes are on offer at Gaya.
Chicken fried noodles (29LE) are only lightly fried; so the dish retains
lightness with a hint of sesame oil.
Curry fried rice (18LE) is a tasty option, yet probably not one of the
more authentic dishes on the menu.
While Gaya does
not offer dessert, their portions are so large that you probably won't miss the
final course. However, they serve
Heineken and Sakkara (both 18LE a bottle) as
well as several Egyptian wines, ranging from 30LE to 40LE a glass.
Gaya's design and
atmosphere make it a great spot, both for a date or for a large group dinner; and
if you stick with tofu or Korean specialties, you can't go wrong.