Golden Dragon: Pleasant Chinese Restaurant in Zamalek
21, Aziz Abaza St., Formerly Hana Barbeque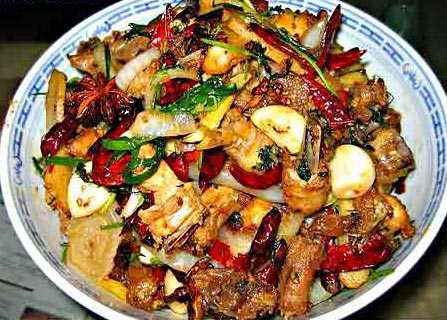 Many in Cairo
have strong feelings when it comes to good Chinese cuisine, or rather its lack
thereof in Cairo. We bear good news worth rejoicing over!
A new Chinese
restaurant has opened on Mohamed Mazhar Street in Zamalek to cure your craving
for Chinese; and cure it they do. Sharing the ground floor with the Nile
Zamalek Hotel is the Golden Dragon. Though its doors have only been open for a
few days, we suspect that this little eatery will hit the neighbourhood's hot-spot
list very soon.
The
atmosphere boasts that quintessential, kitschy decor typical of many Chinese restaurants, while their mascot, a fearsome flaming-nosed dragon, can
be found gracing the menu's cover. A
simple layout of tables and chairs fill two adjacent rooms, the awkward design
of the chairs may take a minute to get used to.
A broad
drink menu includes a chilled Thai Juice (10LE) while a Stella will cost you
19LE. Starting at 25LE, spirits and wines are served by the glass and a bottle
of Omar Khayyam will set you back 105LE.
Boasting a
wide range of options, the menu is filled with traditional dishes that include appetisers of vegetable spring rolls (9LE) and fried wontons (30LE). The spring
rolls are served delicately fried with crispy vegetables in the centre, while
the fried wontons are filled with tender chicken. A three-sauce plate accompanies
both carrying chilli, soy and a tasty plum sauce. A variety of soups and salads are also
available, and start at 7LE.
Main courses
consist of duck, chicken and fish as well as beef dishes, barbeque and pasta
selections. For 66LE, the kung pao shrimp is served appropriately portioned
with well-seasoned shrimp and a delicious combination of sautéed cashews,
peppers and carrots. Mixed with a modest amount of sweet and sour sauce, it
provided the perfect kick and our dish wasn't swimming in sauce to stay alive;
an unfortunately common battle. Simply consisting of juicy shredded chicken
alongside sautéed string beans and onions, our ginger chicken (35LE) was
evenly flavoured and light; pairing well with the steamed rice (7LE).
For
dessert, we opted for the fried banana and honey (20LE). Prepared in individual
slices and fried rather heavily, the portions came scorching hot and placed in a large
serving of an odd honey/corn syrup mixture.
If it weren't for the disappointing sauce, it would make for a nice
indulgence.
Needless
to say, the Golden Dragon is a pleasant surprise, and seeing as how good Chinese
cuisine isn't prevalent; it's highly recommendable.