Galleria40, 26th July Street, Sixth of October

Just when we all thought the burger trend is over, we found that new eye-catching burger place in Galleria 40 called Good Stuff Eatery, so we had to make a stop and give it a try. The American chain is located in five states, in addition to a couple of branches worldwide; one of them is in Saudi Arabia, while the other happens to be the branch we are reviewing.
Quite spacious for a fast food spot; in the middle of the vast indoor area there's a black dining table, surrounded by various diner-style seatings, a number of regular tables and a sauce station, where all items are refillable and free of charge. What's cool about the venue is that it has a linear open kitchen, where you get to see your burgers and fries in the making. Alternatively, there are a few seats outdoors.
The design of the menu is a bit confusing and distracting, which made us take a lot of time to order. 20 minutes later, we opted for the Prez Obama burger (90LE) with fries and shake (+65LE), Nashville Hot Chicken (85LE), and Good Stuff Melt (90LE) with fries and soda (+45LE).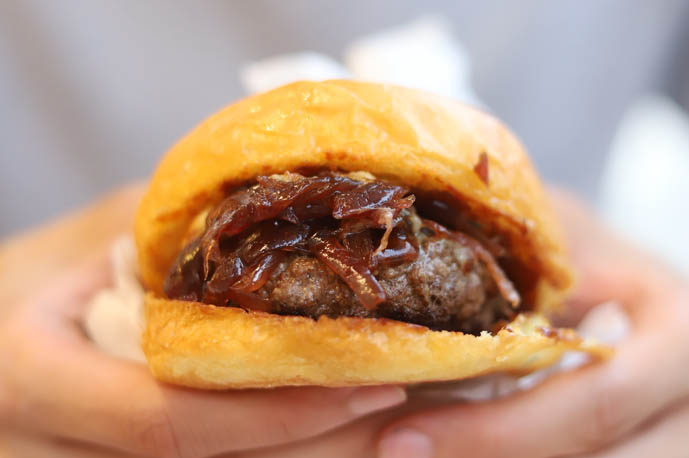 Starting with the Prez Obama burger, it consisted of a thick burger patty, topped with onion marmalade and a chunk of blue cheese, served in a super soft and fresh bun with a pleasantly dense texture like a potato bun. While the patty was perfectly seasoned, flavourful and had a fantastic crust on the outside, it wasn't that juicy and had a slightly chewy texture. The combo of the sweet onion with the nutty, sharp blue cheese complemented the patty, without overpowering its flavours.
Moving to the sides, the skin-on fries were perfectly cooked and had the right amount of crunch, however, they were under seasoned and the portion was very small for the hefty price. As for the shake, we opted for the toasted marshmallow shake that lived up to its name; having that campfire spirit we were hoping for in terms of flavour only, because its thick consistency ruined the whole experience. It was so thick that we had to wait for 40 minutes until it melted, yet it was still too thick to enjoy.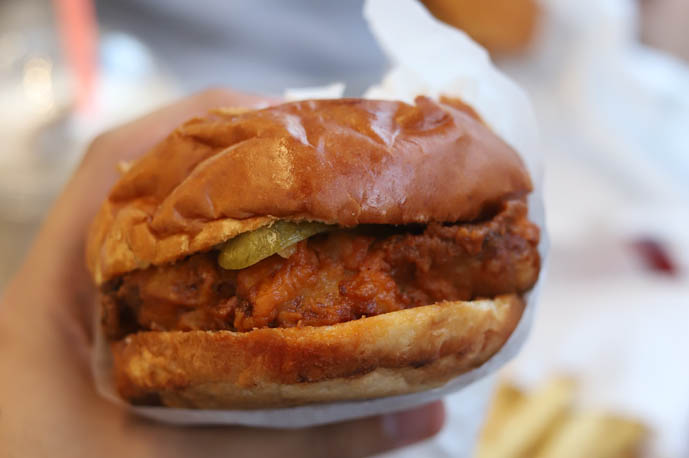 We had high hopes for the Nashville Hot Chicken sandwich, but it was a huge letdown. The chicken and its crust were very tough and dry, the brioche bread felt like it was 4 days old -yes, that's how dry and far from fresh it was- and there was no presence of the hot sauce they warned us about while we were ordering it. We think the only thing we liked about the sandwich was their special pickled cucumber, which was slightly sweet and had the right amount of tanginess.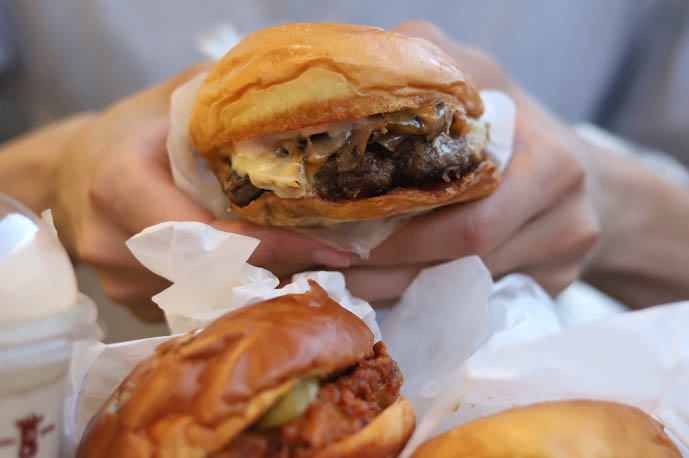 The Good Stuff Melt burger saved the day with its deliciousness. The burger patty was topped with melted American cheese, well-prepared caramelized onions, fresh sautéed mushrooms and Good Stuff sauce, which was more of a sweet ketchup/mayo blend. The patty in this one was way juicer than that of  the Prez Obama burger, which shows a slight lack of consistency.
Although Good Stuff Eatery has just opened a few days ago, our experience was still a good one. We loved the burgers and the fries, but as for the chicken and shakes, not so much. The staff was very welcoming and helpful. However, the prices are way, way too steep for the portions.