Goodcals: Fresh & Healthy Salads in Zamalek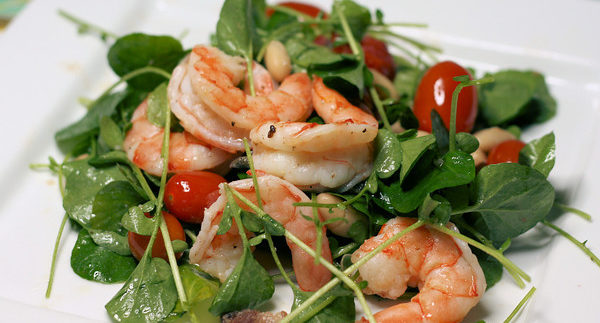 There seems to be an endless flow of new eateries opening
up in Cairo, most of which have been centred in Zamalek. The newest of these
on Shagaret El Dorr Street is Goodcals.
A nice refreshing change, Goodcals offers what they call
'guilt-free' food, serving only salads and sandwiches. The place itself is quite
simple; designed in green and white colours, there are two high tables placed
outside just off the pavement, and inside a couple lower tables are available
as well. The place is considerably small but with a full-mirrored wall to the
right of when you enter, the size looks deceptively (though pleasingly) larger.
An ordering counter
faces you once you enter. Behind the glass are selections of ingredients placed
in stainless steel bowls. A large menu hung up on a wall give you suggestions
if you aren't feeling too creative yourself.
With the number of calories written next to each option, we
chose the Green & Marine salad (34.99LE), the Veggie salad (23.99LE), the
halloumi sandwich (21.99LE) and the roast beef sandwich (29.99LE).
The AC was blasting at full strength so as we waited for our
meal, we were forced to step outside so as not to withstand the less than
enjoyable breeze. The staff were nice, a little too eager and very, very slow.
We appreciated the meticulousness with which he added ingredients and packaged
the sandwiches, but speed and snappiness is also a virtue in a place like this.
The salads were very good overall. The Green & Marine
salad had shrimp, avocado, baby corn, cherry tomatoes and lettuce, and was
ordered with a lemon dressing. While all the ingredients were lovely and fresh,
the shrimp could have been slightly better marinated, giving it less of a fishy
aftertaste. The Veggie salad was equally fresh with spinach leaves, red beans,
broccoli and lettuce; it was ordered with the ranch dressing.
While both salads were probably the best we've had in Cairo,
in terms of fast food salads, the dressing could have been more.
The halloumi sandwich was very good with added tomatoes,
rocket leaves and spicy mayo spread. It was light and tasty, proving to be a
very good brunch choice. The roast beef sandwich had tomatoes, mushrooms and
onions; it was overall enjoyable albeit the mushrooms, which didn't taste fresh.
Overall, Goodcals is a great addition to the Zamalek dining scene.
Girls all around town can already be heard gushing about how wonderful it is to
finally have something that isn't greasy, fattening or in any way unhealthy
that you can grab on your way to work.