Gourmet Burger Cairo: New Eatery in Zamalek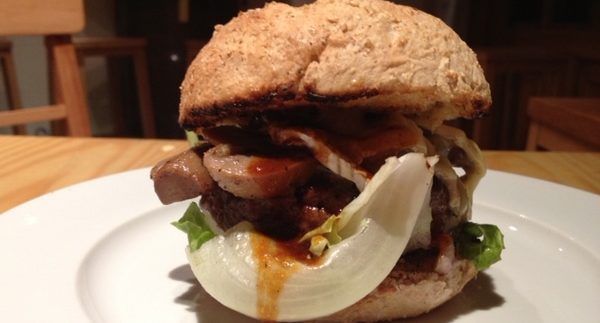 It isn't a stretch to say that Cairo is a fast-food city. Shawerma, KFC, falafel – the list goes on. But a new culinary vogue is sweeping the city. Cairo's latest take on gourmet dining comes in the form of Zamalek's newest fast-food eatery, Gourmet Burger Cairo. Settled cosily in a side-road off of Brazil Street, GBC offers its customers diner-style tables and a couple of novel, barrel-bodied, stool-high tables against the wall, in addition to some outdoor seating. Adding more novelty to the space is a wall adorned with playfully drawn pictures of different cuts of meat, including a big fat ham and several spelling mistakes.
The chalkboard menu on the opposite wall lives up to GBC's gourmet tag. One of the burgers that immediately jumps out is the Canadian duck burger (38.50LE) – which is decked out with lettuce, caramelised onions and cooked apples. These are, of course, duck-friendly ingredients, but not necessarily burger-friendly components. The apple made for a satisfying bite with the soft, thick bread and didn't shock the pallet with sweetness, while the onions were perfectly caramelised. But as a burger, the three dominant ingredients just don't come together because the duck patty had no flavour whatsoever. Although it was cooked fine, there was no seasoning, and any salt added did little to compensate for the centre of the thick patty.
The same can be said of the New York cheeseburger (29LE). Every ingredient tasted fresh; the big, juicy tomato slice, the slightly sweet, crisp lettuce and the flavoursome, rich, melted mature cheese all hit homeruns. But again, the beef patty was devoid of seasoning and flavour. GBC's standard herbed French fries are pleasant and cooked well, although the herbs felt like an afterthought and contribute little in terms of flavour. The zucchini fries (7LE), on the other hand, were marvellous. The zucchini segments tasted fresh, with a little crunch, though zucchini tempura would be a more accurate description of it.
The service leaves much to be desired. A thirty-minute-plus wait for two burgers is disappointing, frustrating, hunger-inducing and many other unpleasant adjectives especially considering the fact that the restaurant was near empty.
Negativity aside, GBC boasts other bread-and-patty options more peculiar than even the duck burger. The Thai shrimp burger (36LE), Japanese fish tempura burger (27LE) and the Lebanese vegetarian burger (22LE) – which replaces meat with slices of halloumi cheese – will surely spark many an argument about what it is that makes a burger. What's the common denominator? Is it the meat patty? Is it the bread-patty-bread structure? Let's not get stuck in the philosophical deep-end and simply say that Gourmet Burger Cairo has some way to go before hitting the heights that it aspires to, but with its reasonable prices and creative menu, it swells with potential.