Grand Cafe: Comfy Outdoor Dining in New Cairo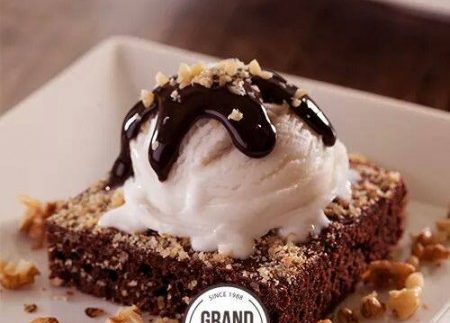 Some outings are just about chilling out, kicking back and enjoying a meal. After a long stressful day all we wanted was a no-effort required dinner and that's how we wound up at Grand Cafe.
Located on the ground floor of the relatively new food complex Americana Plaza, Grand Café offers spacious outdoor seating and comparatively limited indoor seating. We opted for the outdoors as it boasted comfortable couches and had an overall better feel to it. Our waiter immediately laid out our menus, misleading us into believing the place had decent service.
Upon inspection, we concluded the menu offered Lebanese-inspired dishes along with a few international dishes that you could find at any other restaurant. Mezzas like Tehina and Baba Ghanoug, alongside Greek and Caesar Salads, and pretty standard soups. The Mini Shawerma and Hawashi platters caught our eyes. The restaurant plays it safe with its main courses, offering ordinary pizzas, sandwiches, Manakeesh, pastas, and the usual grilled meat platters; nothing particularly imaginative or creative.
Our waiter was nowhere in sight when we were ready, so we had to wait for a few minutes until we spotted him to place our order. We opted for the Shish Tawook platter with a side of sautéed veggies and Basmati rice (41.99LE) and the Boneless Grilled Chicken platter with a side of French Fries and also Basmati Rice (44.99LE) and awaited them patiently. The food took quite some time to arrive and was disappointingly cold by the time it got to our table. Nevertheless, we dug in. The Shish Tawook and the Grilled Chicken were marinated, but not enough for any flavour to stand out. The same can be said for the rice, fries and vegetables; nothing had any distinct flavour.
Wanting to salvage the boring dinner, we ordered the most intriguing item we found in the dessert menu; the Chocolate Chip Pie (27LE). We certainly did expect a lot from it, and all we can say is, it sure did make up for everything else. The pie resembled a thick, chewy chocolate chip cookie, had a big scoop of Vanilla ice cream on top of it and had chocolate sauce drizzled all over it; how could it be anything but delicious?
In a nutshell, the slow service and cold, somewhat flavourless food were made up for, to some extent, by the comfortable seating and the Chocolate Chip Pie; the highlight of the whole experience, really.