Granita: Contemporary Art Deco Cafe Sets Up Shop in Arkan Plaza   
Granita

Interest in Art Deco design is at an all-time high as more minimalistic designs are on their way out. More and more new restaurants and cafes are now turning their eyes towards high contrasts, dramatic spaces, bold colours, and motifs from the 1920s to the 1940s. The ever-so-popular Zamalek spot Granita, well-known for its unique classical yet contemporary aesthetics, has now opened another branch in Sheikh Zayed's Arkan Plaza Extension.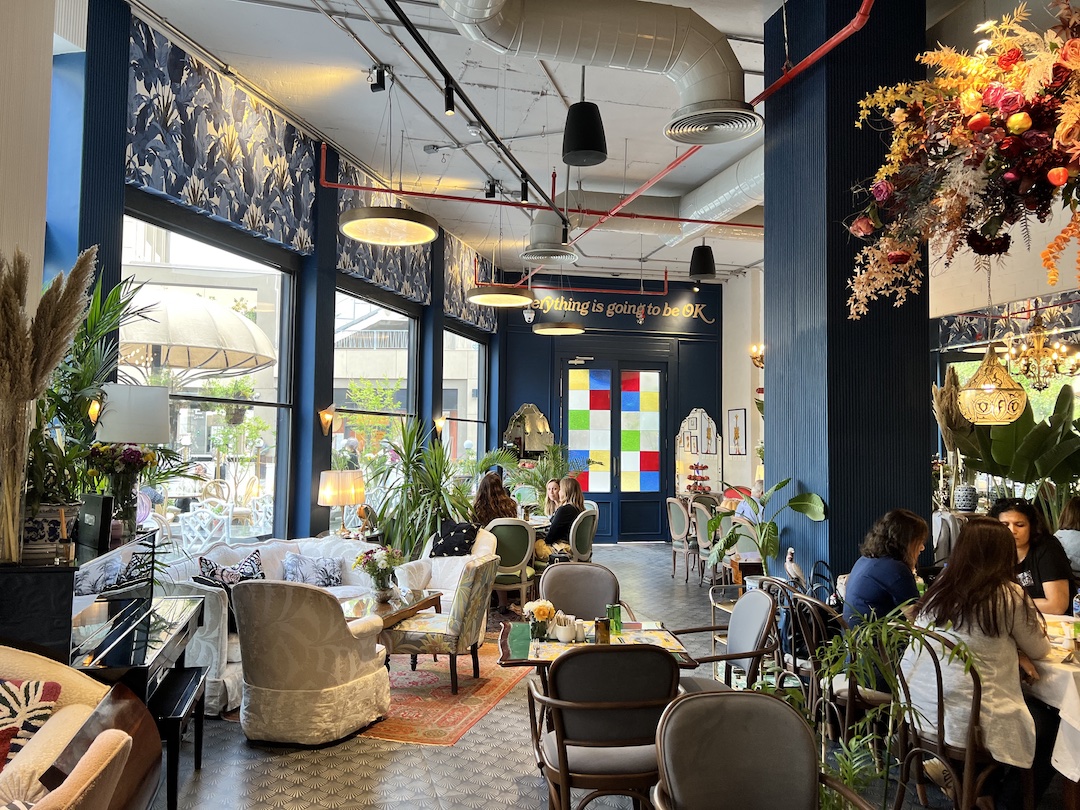 One fine afternoon, we decided to head there around lunchtime to try some of their inviting, light dishes. The space was as beautiful as expected, not as spacious as their Zamalek venue, but still captivating. The attention to detail is impeccable, from the outdoor greenery to the furniture design and the trinkets—everything was in perfect chaotic harmony. We got a table for two in the outdoor area and began to choose some dishes from each section as we did not want to have full meals.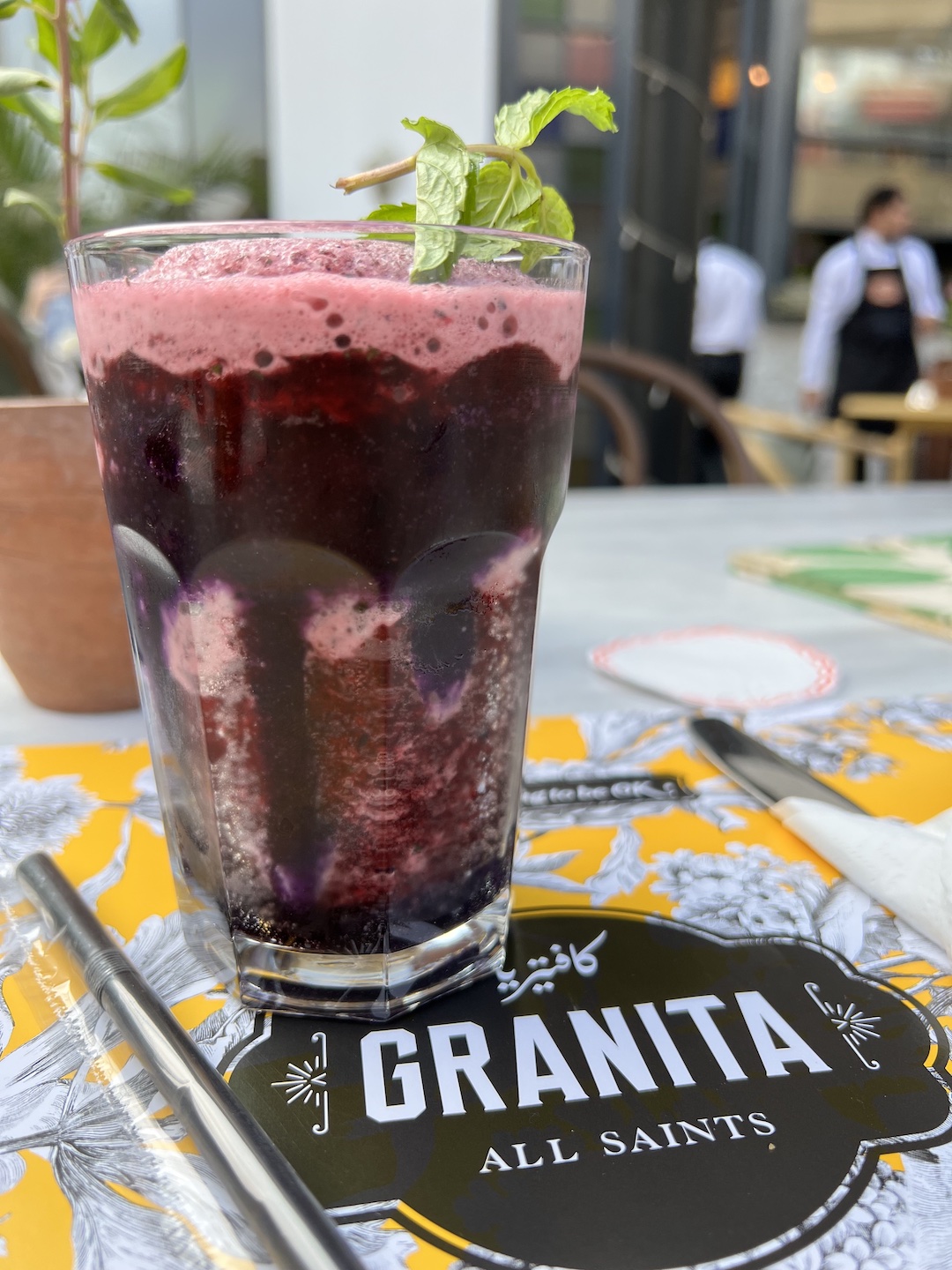 We started with one Espresso (40 LE) and one Karkade and Berries Smoothie (55 LE), which was refreshing, tangy, and not overly sweet—the hint of mint gave it a unique palate-cleansing twist.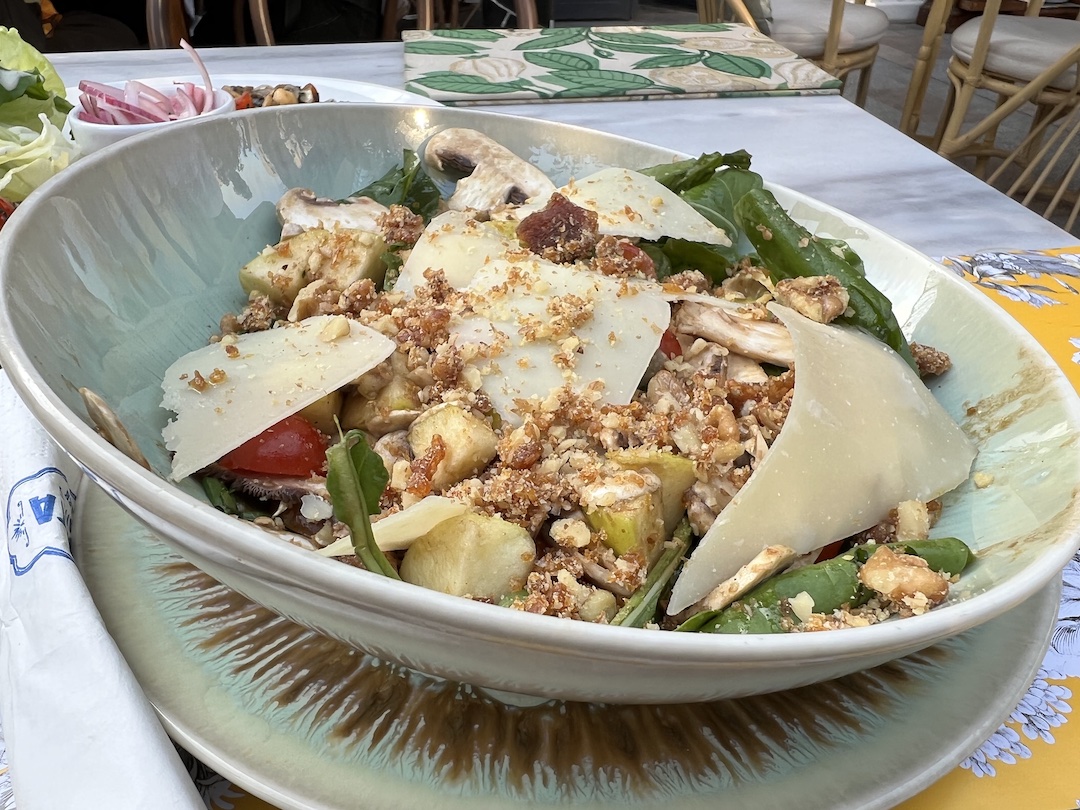 Shortly after, we began skimming through the menu and were intrigued by all the enticing choices; we ended up settling on the Apple Walnut Arugula Salad (135 LE)—with caramelised walnuts, balsamic dressing, apples, and arugula. The salad had the perfect bite; the sweetness of the walnuts went great with the spicy arugula flavour and the crunchy apples. The addition of cheese gave the salad the punch it needed alongside the mellow tartness of the creamy balsamic.  
From the Amuse-Bouches section, we decided to try the Bonbon Artichoke (95 LE)—breaded and fried artichoke with chilli mayo sauce. Even though one couldn't really differentiate between vegetables when fried, what stood out was how each piece was faultlessly breaded and fried to golden-brown perfection. The dish was rather satisfying, and the chilli sauce gave it a delightfully spicy kick. We also wanted to try one of the tartines, so we ordered one Vegetarian Tartine (120 LE)—pan-seared mushrooms, tomatoes, radish, and chickpeas with olive tapenade. Although the mix had sounded exciting, the execution perhaps needed more thought as the tartine bread became rather soggy when served, and the vegetable mix required more seasoning to shine. 
We returned the tartine dish but were more than happy with the overall experience. We decided to come again for a proper meal and dessert another time, but for now, we were pretty pleased with the food selection, the ambience, and the prices. Granita is one of those places where you don't need to eat to have a good time; you can grab afternoon tea with a few desserts or one or two appetisers and continue with your day feeling refreshed and calm.