Grilla: New Delivery-Only Wraps in Cairo
1 Gezirah El Wosta St. (Delivery Only)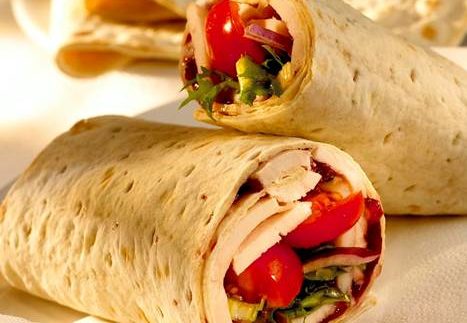 Egyptians are highly food oriented people,
and perhaps because of this reason the opening of new restaurants and cafés in Cairo is always welcomed and hold high
potential of finding success.
With a kitchen located on El Gezira El
Wosta Street in Zamalek, newly opened Grilla is a strictly delivery only venue
that serves a variety of sandwiches and wraps, but centres mostly on the Lebanese and Turkish kind.
Wanting to try a bunch of different things
we opted for the signature cheese steak sandwich (24LE), a chicken panee sandwich
(18LE), the doner kabab (24LE) and chicken doner (24LE). We also ordered a side
of French fries (7LE) and cheese sambousak (10LE).
Arriving in a reasonable amount of time,
the packaging was impressively branded and done well. The sandwiches were individually wrapped
in a type of foil-paper with a label indicating its contents. The French fries
were in an easy-to-eat-out-of cup and the sambousak was in a convenient plastic
box.
Although aesthetically inviting, the food
did not fare that well. The Grilla cheese steak sandwich had chewy and
undercooked fatty meat and the vegetables inside the wrap were a bit too soggy. The
doner kabab was nothing particularly special, even with added mozzarella cheese and onions;
it ended up tasting mostly like minced meat. The chicken doner was pretty much
the same, which confused us slightly. Ordering it with tomeya and fries as
toppings, the wrap looked and tasted like its meat counterpart.

The chicken panee was perhaps the best out
of all the sandwiches, but the long strips of breaded chicken could have been
much better cooked; they were a bit on the pink side.
The French fries were perfectly cut and
fried, but unfortunately the spices that were generously added ruined the great
and satisfactory flavour of a straightforward potato. The sambousak were nice
and hot and were sufficiently crunchy, but we felt there could have been more
of the cheese filling in the middle to avoid chewing on so much dough.
We had also ordered extra sides of
mayonnaise and pomegranate molasses, which sounded very interesting, but sadly
neither showed up with the rest of our order.
Grilla is new to the already very saturated
food scene in Cairo and we always appreciate new ventures. Unfortunately though, Grilla is still well short of competing with the
best the city has to offer.