Grizzly Diner: Big, Wholesome Breakfast Options in Zamalek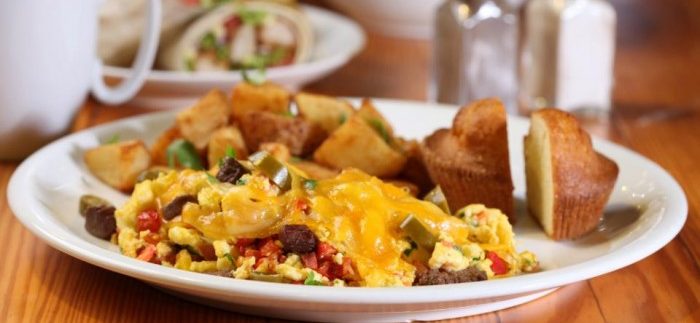 We've all had those mornings where you wake up and feel like having a shamelessly gigantic breakfast; one that combines both savoury and sweet flavours and will probably suffice as a collective meal for the whole day.
Grizzly, the Nile-side, All-American diner in Zamalek's CLub 33, is one spot that's notoriously known for its big portions. It offers seating areas on two floors; an outdoor one downstairs and an indoor one upstairs. Unfortunately, when we arrived, there were no outdoor tables available and so our waiter led us to our table upstairs.
Our menus were immediately laid out before us and we scanned for the breakfast options. For those into egg-based breakfasts, Grizzly offers an array of options (32LE-40 LE), which come with sides of potato wedges and a pancake, croissant or muffin, as well as a complimentary bread basket ). For those in need of a sugar rush, Grizzly also offers pancakes, waffles and crepes (25 LE) with several toppings to choose from, including Peanut Butter and Jelly, Bananas, traditional Maple syrup, Caramel and Blueberries. Craving a sandwich? You can opt for the Grizzly Club (35LE), which boasts layers of fried eggs, cheese, bacon and turkey amongst others.
With a heavy breakfast waiting, you definitely want to go for a drink to wash it down. From Frappes (20LE-22LE) and milkshakes (25LE), to cocktails (22LE), smoothies (27LE) and fresh juices (11LE-17LE), you can take your pick from countless options. The Caramel Frappe, Cookie Dough Shake and the Peach Blend Cocktail were some of the drinks that caught our eyes.
We placed our order, completely oblivious to the fact that we'll be a couple of years older by the time it arrived. Thirty minutes upon placing it, we reminded our waiter that we were starving and he had our drinks before us in no time. The Caramel Frappe was dense, creamy, and bursting with flavour. The same praise cannot said of the orange juice, however, which came out of a carton.
When our food finally arrived, it certainly looked the part. The Vegetable Omelette (33LE), which arrived with no cheese or sour cream as we had requested, was filled with mushrooms, tomatoes and onions, and the Texas Scramble, which was definitely heavier due to the addition of mixed cheese and beef, was also quite delectable. The bread was some of the heaviest pita bread we've ever had; though this is not necassarily a negative for everyone. The potato wedges were, however, a little soggy. Finally, our blueberry muffin was amazingly fresh and our pancake, which we drizzled with maple syrup, was fluffy and delicious.
Our breakfast at Grizzly was everything we wanted it to be; big, filling and sumptuous. The fact that it took a bit too long to arrive, however, left us slightly annoyed.