Habayeb El Sayeda: Delicious Local Meat Dishes in Sayeda Zeinab
125 El Sad El Barrany St. (opposite Sayeda Zeinab Metro station)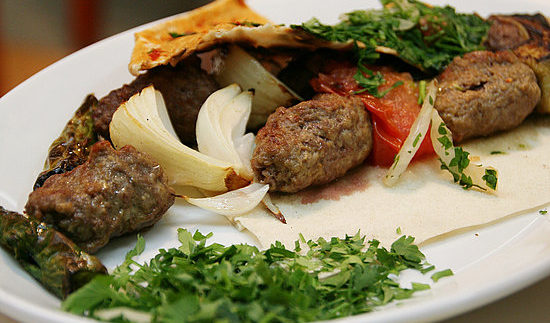 Having
lived in Cairo for a while now, this reviewer often longs for fresh, succulent
meat. Furthermore, the ubiquitous sight of skinned livestock and unrefrigerated
meat does not always get one excited to sample Cairo's meatier dishes. Yet some
respite can be found in a lesser known eatery located in front of the Sayeda
Zeinab Metro stop. If you successfully navigate through the labyrinthine exit
of the station, it would be worth your time to grab a bite at Habayeb El
Sayeda.
One of
Sayeda Zeinab's best kept secrets, as far as kofta and kebda (liver) goes;
Habayeb El Sayeda can be spotted by its odd lampposts resembling red and blue balloons.
The left side of the shopfront contains a massive indoor/outdoor grill
complete with hanging sausages and a mob of eager patrons waiting to take home
kilos of various meats. One the right side, one will find a crammed indoor
seating area as well as an outdoor area that spills onto the street. Both seating
areas contain about five good sized tables, each modestly adorned with a cup of
salt.
Every meal
starts off with a basket of bread accompanied by a few small dishes of mediocre
tehina. We ordered a salad (1LE) and soup (1.5LE) for starters.
The salad consists of the typical mix of onions, cucumbers, and
tomatoes—nothing special there but for a mere 1LE it serves as a nice
compliment to soon-to-be-delivered meat dishes. Likewise, the soup -more or
less meat broth- is pretty bland but does a good job of cresting your appetite
without filling you up.
The only
reason someone should find themselves at the takeout grill or restaurant of
Habayeb El Sayeda is for the highly sought after meat. The servees mushakel, or mixed grill, is
highly recommended and is served in four sizes ranging from 30LE to 60LE.
Expect to find a pile of kofta, kebda, mumbar, and neefa
(goat) served over greens and topped with crunchy grilled onions. Place some
kofta and grilled onion in a piece of bread, dip in the tehina and salt, and you will be in culinary heaven. The
presentation is not fancy but the meat is delicious. Kilos of kebda, kofta, mumbar,
goat and lamb's head (60LE, 50LE, 45LE, 80LE, 80LE) are available for those
wanting to take meat home.
A variety
of meat filled sandwiches (4LE-10LE) are also available while the more
courageous diners may want to spring for the tagine akawy (35LE) which is considered a real delicacy if you do
not mind eating tail meat.
Though you
will not find any New York strips at Habayeb El Sayeda, you will find well
seasoned local meats at a more than reasonable price. Afterwards, wander down
the street towards juice shop Al Rahmani for its famous sobya; the sweetest way to end a trip to Habayeb El
Sayeda.