Indira: Classy, Minimalist Indian Cuisine
Holiday Inn Cairo Citystars Hotel,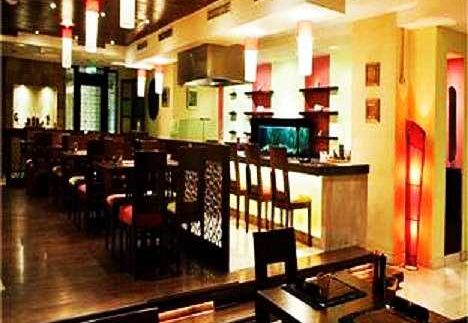 While the thought of dining in CityStars
may strike fear and dread in the hearts of some, there are one or two venues
that manage to provide a sheltered– and yes, even enjoyable– atmosphere inside
the mall metropolis. One such place is the Holiday Inn's Restaurant Indira, which
effectively combines chic décor with some truly tasty entrées, for all the mall-phobic
diners amongst us.
Best of all, Indira offers
delectable Indian spices and enchanting flavours with its artful cooking and authentic
ingredients. Arguably one of the most modern-looking Indian eateries we've seen
in the Capital, Indira's dark wood tables and tasteful décor feel like Indian
exoticism and modern architecture have been merged seamlessly. Due to its
Holiday Inn location, the restaurant's clientele is a mixture of tourists and
Cairenes looking for an upscale Indian feast.
Dark shades of burgundy, frosted
glass and meticulously laid out tables are executed with immaculate oriental
detail. A few ornate elephants and tapestries are carefully placed around the
venue, but the tone is kept at a minimalist balance.
Upon being seated, guests are served
a complimentary mango lassis, a thick yogurt and fruit beverage, as well as an appetiser
of crunchy bread and a myriad of sweet and savoury chutney sauces.
The main course menu features
lobster, which you can select yourself from an aquarium behind the kitchen bar.
We must admit that we initially thought that the display was an ornamental fish
tank, until we noticed the crustaceous contents and their claws. The chicken
korma dish has a sweet nutty flavour complimented with just the right amount of
spice, while the chicken is clean and tender. The butter chicken was a
hit around our table, while the basmati rice is light and fluffy. Indira also
serves a near-perfect dish of naan bread that arrives warm and steaming.
The service is good, though the
waiters were inexplicably inflexible about pulling tables together to
accommodate large parties. Otherwise, they are generally efficient and helpful
in explaining and recommending dishes and explaining the level of spiciness of
each dish.
Most appetisers cost around 40LE,
while main courses start at 70LE. If you opt for lobster, of course, expect to
look at a much higher bill.
Lucky patrons may also receive a complimentary
strawberry and vanilla-infused whipped cream dessert after a meal. On one
visit, our dinner party received ornate, mini-cardboard chests as we left the
restaurant. Though we expected chocolate, we were bemused to find we were given
curry spices so we could make Indian food at home.
Overall, the food is delightful; the
portions may look small but are exceedingly filling and tasty. If you are up
for a taste of refined Indian cuisine, Indira promises good food in a relaxed and
elegant atmosphere.