Jo Sushi: Poor Maki, Yummy Dessert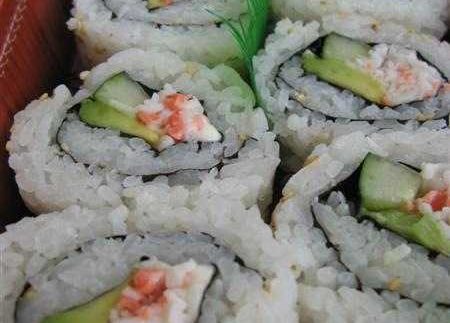 Sushi in Cairo… that phrase
alone can make any sushi lover nervous. While you may never know if it's coming
from the Nile or if it's truly being flown in
from wherever the certain fishy establishment claims; you sometimes have to
take a chance.
Jo Sushi has been
around longer than most sushi spots in Cairo.
With branches in Heliopolis,
Zamalek and Dokki, it has a reputation for value for money. Aside from its
regular sushi dishes, the restaurant also offers a broad selection of rice and
noodle dishes, including teriyaki and soba.
On Mohamed Mazhar Street,
shortly before Sequoia, you'll find Jo Sushi's Zamalek location. It's quite
small inside, providing an intimate space for groups no larger than four to
five people, although the seating is comfortable. As soon as you're seated, a waiter
places mysterious miniature baskets on the table that hold piping hot wash
clothes for your hands.
Appetisers
include various soups and salads. The hot and sour soup (10LE) was a hearty cup
filled with shredded chicken, peas and carrots. The consistency was thick and
quite full of flavour.
When it came to
ordering the much-anticipated sushi, clarification was needed. The menu was a
mess: the prices didn't match up with the choices, which left us confused as to
which items cost how much. The maki menu (served in six-piece portions) had a
measly selection, which unfortunately ended up pairing with its taste.
The crispy California roll (33LE)
consisted of the traditional avocado, cucumber, salmon and crab, with a dash of
tempura paste on top. The salmon portion was tiny, while the crab was
overpowering. The tiger roll (25LE) came with shrimp tempura, avocado, and… mayonnaise.
Mayonnaise in sushi? We opted for cream cheese instead; but it didn't seem to
make a difference in taste. Texture was mushy, making for a poorly constructed roll,
and hard to handle between those finicky chopsticks.
There was
something off about the wasabi. No matter how much wasabi was added, its spicy
kick was nowhere to be found. The Unagi sushi was delicately topped with a
sweet sauce and sesame seeds. Each piece was 9LE and was definitely preferred
over the maki.
For dessert, the
fried banana with honey and ice cream (17LE) made the best part of our meal.
The banana came breaded and deep fried, paring nicely with the strawberry and
vanilla swirl ice cream.
Two drinks, an
appetiser, two main courses and dessert ran us around 150LE making the price
quite reasonable for a full course meal. Although the sushi disappointed us, the soup and dessert are safe options.