Johnny Rockets: Americana in Egypt
CityStars, Phase 2, 2nd Floor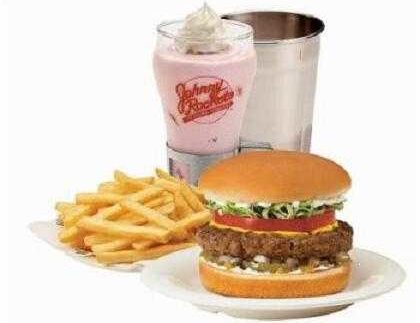 Soda fountains, simple
burgers and waiters dressed in white were emblematic of American diners in the
1950s. Johnny Rockets is the next best thing to give us a taste of a simpler
time. Located in Citystars' Phase 2,
Johnny Rockets brings a little old-time American charm to Egypt.
The Citystars location looks
exactly like the American version with bright red booths, glistening table tops
and vintage-inspired posters of quintessential 'all American' people enjoying
the burgers and shakes at Johnny Rockets. Each table is set up with the iconic and old fashioned straw dispensers,
and most booths have the tiny jukeboxes with a collection of classic hits from
the 50s and 60s. For most Johnny Rockets
fans, these jukeboxes are an essential part of the restaurant's charm. So it was
disappointing that at the time of this review, the jukeboxes were for display purposes
only; leaving us flipping sadly through the pages of tracks that we'd be
boogying to at any other Johnny Rockets location.
Thankfully, the food and
service at the Citystars branch is on par with the chain's standards. We were
greeted by a man with a wide smile dressed all in white, and handed the one-page,
plastic-sleeved menu. Although the Oreo milkshake (25LE) is slightly thinner
than the State-side version, it is served the same way as in the American
branches: in a tall glass topped with whipped cream, with the metal mixing cup on
the side, containting whatever didn't fit into the glass. Fountain sodas (9LE)
are served with crushed ice and happily refilled for free. A plate of fries and
onion rings was even preceded by the same ketchup smiley face; a trademark of the
Johnny Rockets experience!
Named after the famous
American highway, the Route 66 burger (26LE) arrived half-wrapped in paper and
dripping with the juices of grilled mushrooms and onions. With a peppery patty and a slice of Swiss
cheese topping it off, this burger was a greasy mess of glory. The grilled beef
hotdog (20LE) split down the middle and filled with the customer's choice of
relish, chopped onions, ketchup and mustard was set in a toasted bun and reminiscent
of the happiest childhood summer cookouts.
Johnny Rockets' menu of
diner favourites also includes salads, tuna melts, chicken sandwiches, a long
list of burgers, chilli– which can be served alone or atop fries or hotdogs–
and traditional American desserts such as apple pie a-la-mode.
The simple yet delicious food and the friendly
service at Johnny Rockets are enough to perk anyone up after a long day of mall
shopping. If only the jukeboxes had
worked; we would have been dancing in our seats!