Joy Luck Chinese Restaurant: Modest Restaurant in Maadi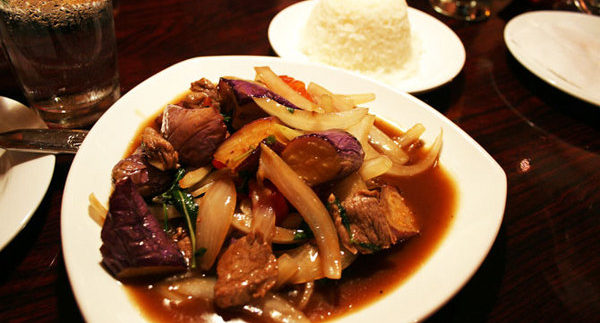 Located on Maadi's Road 233, Joy Luck Chinese restaurant offers delicious
plates at reasonable prices. Do not be turned off by the proximity of the pet shop Egy Puppy – there are no parakeets on the menu.
It would be
very easy to miss this unassuming Chinese restaurant while walking down Road
233. The storefront is adorned with a very simple, yet practical, sign stating:
'Chinese Food Take Out'. The Spartan dining area contains a mere four tables,
and one of them is usually occupied by the sole woman who takes your order,
handles the checks, and manages takeout. The dining area also contains a lonely
looking fridge in which all of the restaurant's vegetables and fruits are kept.

Start your
meal with a hot and sour soup (5LE) that just may be the best value that money
can buy when it comes to Chinese food in Cairo. Served piping hot, the hot and
sour soup contains the perfect mixture of peppers and vinegar as to make it
both spicy and tangy. Moreover, the serving is large enough to be shared by two
people. You may also want to try an order of six fried spring rolls (12LE);
however, avoid the pseudo ketchup dipping sauce that accompanies this appetizer
plate. The steamed dumplings (15 for 12LE, 25 for 20LE) serve as another great
starter option and come with a top-notch soy sauce complete with chopped garlic.
As the food tends to be delivered all at once, it may be worthwhile ordering
appetizers before considering your main courses. That way, you will not have to
choose between a lukewarm soup and a hardened dumpling.
The
extensive menu offers dishes ranging from your standard fried rice (7LE-10LE)
to less encountered specialties including fried crab (48LE), unguis (20LE), ox
hoof (30LE) and ox tripe (36LE). This reviewer recommends sticking with the
less adventurous main courses. Order a couple different dishes for the table,
as each order includes a substantial portion of food that would be difficult to
tackle alone. The sweet and sour chicken (30LE) is well battered and smothered
in a sauce that is pineapple-sweet but not overpowering. Another staple option
is the noodles with beef and chilli (15LE) that contains crispy fresh kale. In
the same vein, the fried eggplant with beef (20LE) ensures a healthy helping of
both vegetables and tender meat. Finally, vegetarians will be pleased to learn
that the fried bean curd in medium chilli sauce (16LE) is also excellent.
Although
this restaurant is in desperate need of interior decorating, they nevertheless
manage to serve some genuinely delicious entrees that are a welcomed change
from the monotony of colourless food offered in many other Cairo restaurants.
Be sure to ask for chop sticks and enjoy!