Just Falafel: Creative & Customisable Falafel Sandwiches in Cairo Festival City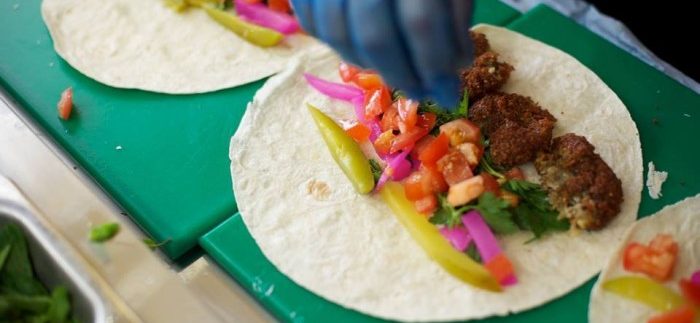 In-between-meal snacks are the best, aren't they? They're light enough for you to enjoy without you feeling the heftiness of a full meal weighing you down. Falafel, our own Egyptian ta'amia's Lebanese sister, is one perfect snack to chow down whilst going out and about in the middle of the day.
Hard to miss, with its giant green JF logo, Just Falafel is one amongst the many other fast food outlets in Cairo Festival City mall. Having launched in Egypt last year with its first branch in Maadi – and recieving a mixed review – we were curious to see how this branch measured up.
The waiter who greeted us was quite amicable, giving us a menu, pointing to the types of bread offered and letting us know that we can add or remove any toppings, pick the type of falafel we want and totally tailor our sandwiches to our heart's desire.
The menu offers set sandwiches, which are all inspired by international flavours, with prices ranging between 9LE to 16LE and meals ranging from 18LE and 25LE. The 'Italian' sounded quite appetising, as did the 'Original', and the 'Greek'. The menu also offers healthier options, with baked instead of fried falafel (add 4 LE to the original price) and brown instead of white tortilla bread (3LE extra). You can also add extra toppings, including mozzarella and cheddar cheese. Some extra sides and dips also caught our eyes, including the Falafel Bites (8LE), the Tzatziki dip (5LE) and the Coleslow Salad (7LE). The final item on there was the only dessert option available: the delicious sounding Just Nutella Toastie (14LE).
Our order was up and ready within twenty minutes, and the 'Original', which we had ordered with baked falafel and brown tortilla bread, was bursting with flavour, particularly the hint of mint that ran through every bite. The 'Italian' (16LE) was quite the delight, too; yes, mozzarella cheese does, in fact, go well with falafel. The Ciabatta bread was fresh and the the pesto-mayo sauce was delicious, despite it being a little too scarce.
Just Falafel also offers a Toasted Halloumi Sandwich (16LE), which we ordered in brown bread; though it was in no way offensive, it was a little plain tasting and perhaps some herbs could've been added to the cheese to jazz it up a little.
In a nutshell, Just Falafel offered us light, semi-filling options to get through the day amidst meals. The whole internationally-inspired falafel sandwiches concept is a novel approach that works surprisingly well in terms of the slightly random flavour combination.