JW's Steakhouse: Top Quality, Over-the-Top Bill
Cairo Marriott Hotel & Omar El Khayyam Casino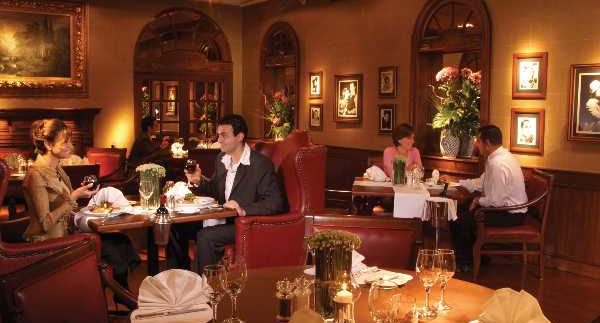 Regardless
of the excellent quality of JW's Steakhouse's food, it is not a restaurant that
you will be going to every weekend, nor every month unless you're Bill Gates.
This is simply because the Steakhouse is probably one of the most expensive
restaurants in Cairo. Dinner for two (with wine, starters and dessert) will
cost you about two grand plus tip (and you WILL tip because the service is
truly awesome).
First
things first, though. As its name suggests, JW's Steakhouse specialises in
steak. Really good steak. Their dry aged beef is imported from the US and it is
truly delicious. This reviewer recommends either the rib eye (if you like your
steak really well marbled) or the sirloin (if you prefer less fat in your
steak).
JW's
Steakhouse offers you a choice of several side dishes to go with your steak.
Additional sides are extra, although if you go for a 14-ounce rib eye or
sirloin, preceded by a starter or soup, one side dish is more than enough). The
hash brown garlic potatoes are scrumptious, as are the creamy spinach gratin
and the asparagus. Although the steak is good enough to eat raw and completely
unseasoned, this particular carnivore discovered that Hollandaise sauce
complimented the rib eye rather well.
As for the
starters, go either for the seafood platter for two (not cheap at around 250LE
for two, but well worth it) or the Maryland crab cake, which probably beats any
crab cake you can get in Maryland. The staff also brings freshly baked bread
with garlic butter; one of their signature starters.
Perhaps
the biggest drawback to JW's Steakhouse is that there are no windows in the
restaurant. However, the massive leather chairs give a certain feeling of
grandeur that is hard to beat. Besides, let's face it, you don't go to JW's
Steakhouse to stare out of the window; you go for the steak.
The
restaurant's service is flawless. Despite the superbly filling portions, save
some room for dessert; the caramel apple tart is yummy. Order a cup of Belgian
coffee to go with your tart. The coffee is prepared at your table and is
without fault.
JW's
Steakhouse may be extremely pricey; but the steak is well worth the hefty bill,
even if you can afford to go only once in your lifetime.