Kamala: Cairo's Pan-Asian Perfection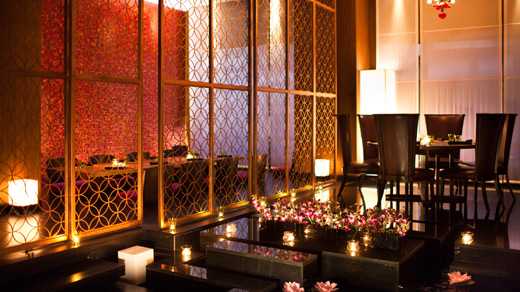 Graceful yet grand, understated yet enchanting: these are the words that
come to mind when we think about Kamala. Though this description might first
seem dichotomous; Cairo's
Conrad hotel blends them perfectly at this Asian restaurant.
When you step into Kamala's dining room, you will instantly know what we
mean. A lofty ceiling and mahogany-coloured
wood are softened by a pool decorated with floating lotus flowers. The scene is
one of majesty and tranquillity, and the cuisine follows suit.
Pan-Asian restaurants often suffer from a menu that lacks focus but not
at Kamala; the country of inspiration behind each dish is stated on the
menu. You'll find Chinese dim sum, Thai
curries and grilled meats from Indonesia
on the menu; and from what we can tell, you can't go wrong with any of
them.
A complimentary bowl of shrimp crackers are brought to each table and
are accompanied by soya, peanut, sweet chilli and duck sauces. The crackers may
be an acquired taste; but if shrimp crackers please your palate, you'll have
trouble saving room for your meal.
Starting off with fried shrimp dumplings (35LE) is an excellent way to
begin the Kamala experience. Served in a
bamboo steaming basket, three dumplings are filled with large, delicately
flavoured shrimp wrapped in a paper-thin skin, topped with sweet chilli sauce.
Light and delicious, the dumplings are crispy on the outside, fresh on the
inside and not the least bit oily.
Noodles won't disappoint at Kamala where an order of pad Thai (64LE)
combines prawns, chicken and tofu with noodles and bean sprouts in a large bowl
big enough for two. Flavoured with peanuts, lime and chilli as well as coriander,
the dish is flavourful and fresh; none of the ingredients overpower the others.
Kamala also knows its way around a curry, but if you can't take the heat;
don't order from this open-air kitchen!
The roast duck curry (95LE) is bright orange and packed with a
punch. Strips of succulent duck and
bright green peas that pop in your mouth float in the dish of spicy curry. Not that the heat is all that you taste; the
subtle coconut milk base is there, but subtle is the keyword. Rice is provided by a server, who walks
through the dining room carrying a large steaming basket of white rice. Don't be shy about taking a large portion;
you'll need it with this piquant sauce.
Desserts at Kamala are necessarily light; as diners rarely have room for
much more than pisang bakak (35LE) or equally dainty sweets. A couple scoops of vanilla ice cream with
sliced, grilled banana and refined mango syrup were pleasing, but the real
treat at the end of the meal is the tea list.
Do not pass up a pot of flowering white tea (35LE) served with sugar
cane syrup. The tea is visually stunning;
as it opens up and 'blooms' in the clear glass pot; infusing the hot water. We
swear that you can feel it cleansing your soul.