Kamona: Desert Bred Meats in Nasr City
57, Hassan Aflaton St., Ard El Golf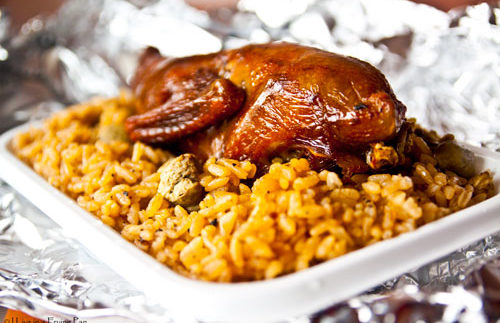 If you've ever been to Marsa Matrouh on the North Coast then you're probably familiar with one of the most popular grills and Eastern cuisine restaurants, Kamona. The main branch has been around for more than 50 years and it was only about three months ago that the restaurant made its way to Cairo, settling in Nasr City.
What's so special about Kamona? Apart from the three floors you can choose to sit in, the chic and impressive décor of both its interior and exterior, the comfy and low seating that's authentic to Marsa Matrouh yet modern at the same time; Kamona serves mountain lamb that has fed on the purest and cleanest grass, making it one of the most delicious and tasty meats when cooked.
Other typical home-style Eastern dishes are also available which include molokheya with rabbit, duck, stuffed pigeon, mombar, a variety of tagen-cooked choices like eggplant, peas or macaroni with white sauce, as well as mahshi, soups and salads.
We chose to sit on the top floor to take in the view of the street below while we browsed the extensive menu options – unlike the one found in the Marsa Matrouh branch. We started our meal with a Moroccan soup (10LE) that has orzo, dill, coriander, tomato sauce and pieces of shredded lamb; this is a meal in itself and is tasty, though a little on the fatty side.
The service was prompt, with a waiting time of no more than ten minutes. With a cover charge of 5LE per person, salads are served almost for free and they include tehina, potatoes with mayonnaise, yoghurt, pickled tomatoes and a baladi salad – which were all equally enjoyable. Naturally, we went for the grills, choosing to try the kofta (130LE per kilo), lamb sausages (135LE per kilo) and pigeon stuffed with rice (28LE per piece).
While the pigeon seemed a bit small on the plate, their wonderful flavour made up for any doubts we had about their size; with herbs and spices, the meat was tender and clean, making it the best we've tried in Cairo.
The sausages were grilled to perfection and marinated in a secret recipe; the flavour was superb. The kofta had a certain zing to it and the meat was in good consistency and also full of flavour.
Full to the brim, we couldn't have eaten more, but other dishes that had us curious were the tagen dishes (30LE), the duck with rice and nuts (60LE) and the kabab.
Sweeten your palette with Om Ali (14LE) or go for one of their fresh juices (10LE); the mango juice is rich with chunks of fruit and is served in a big glass.
The service was pleasant and attentive; even the manager was passing through tables making sure everything was satisfactory with the customers, while offering some background to the restaurant and its cuisine.
We are happy to have Kamona in Cairo, and we warn all other grills out there that this is a force to be reckoned with.