Kazaz: Downtown Cairo's Hub For Cheap Fast Food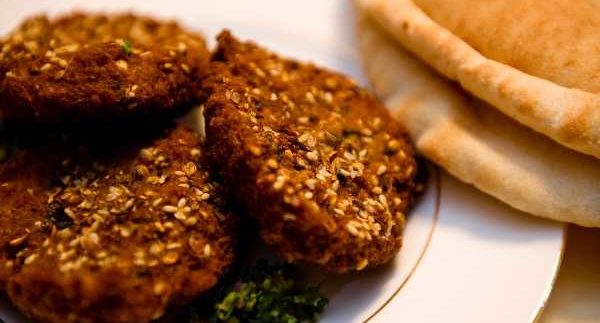 It's easy to get discouraged by cheap baladi food in
Cairo, where sometimes a taameya sandwich for 2LE can be a huge, regrettable mistake. If
you're looking for a dependable baladi restaurant that delivers up Cairo's yummiest fast
food that's also always affordable, however, then what you're looking for is Kazaz.
Aside from offering every variety of taameya and foul that
exists, Kazaz's shawerma sandwiches are Downtown's finest. The meat is fresh and
sautéed with tomatoes, onions and peppers. The sandwiches come in three sizes,
the smallest of which is served in a semi-sweet, sesame seed Kaiser bun and
drizzled with tehina sauce. The medium and larger sizes are served in classic,
long shawerma rolls. Baladi burgers are another Kazaz classic that can
hit the spot. In between a sesame seed roll, a perfectly sunny-side-up egg sits
on a beef patty with cheese and all the fix-ins.
A review on Kazaz wouldn't be complete without
mentioning their terrific lentil soup. Although not quite suitable for warm
weather, you might find yourself ordering it anyway; it's just that
irresistible. The lentil soup has the perfect thickness and is served with raw
onion, fresh lemon and tiny pieces of crunchy, fried bread.
Conveniently located next to Ahwa
Bustan and Stella Bar, many regulars pick up something quick before
heading to a nearby hangout. Although Kazaz is mostly known for its fast food
service, there is a seating area upstairs if you're looking for a sit-down
meal. Try the 1/4 chicken meal, which is served generously with chicken soup,
rice, mixed vegetables and fresh salad. There are other Egyptian goodies and
they're all pretty delicious, including molokheya, mahshi and fresh okra in
tomato sauce.
Kazaz's take-away section stays open until the very
early hours of the morning, so it's a perfect place to satisfy a midnight
craving or to hang out after a long night. Kazaz delivers in the Downtown area,
so if you live in the neighbourhood; you're in luck. They're generally quite fast, but
they definitely have their off nights.
Kazaz is living proof that delicious food in Egypt can
be affordable. Foul and taameya varieties never exceed 2LE to3LE, shawermas
cost between 4LE to 9LE, and lentil soup costs 4LE. Full meals, such as the 1/4
chicken meal, cost around 20LE to 25LE.