Kebabgy Zein El Abdin Abu Ramy: Forgotten Kabab Glory
Ibn Yazid St., Ard Yaqoub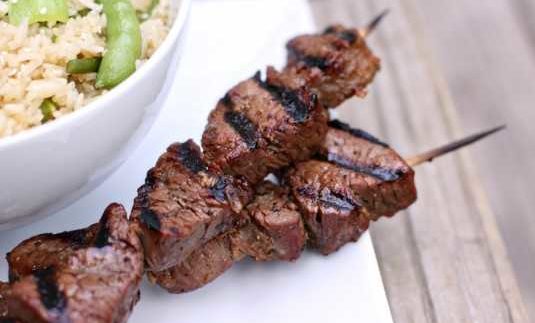 Ask most Egyptians in the know who the best kabab house in Cairo is, and Abu
Ramy in El Madbah will make it onto several lists. Fifteen years ago, when the
Children's Cancer Hospital was barely a gleam in a developer's eye, Abu Ramy
straddled the unpaved sidewalk with plastic covered tables and a ten-meter-long
trough full of hot coals and topped with cooked flesh. The smell of raw meat
mingled with seared flesh filled the nostrils of the grease-lipped patrons, who
came from all around to feast on the ambrosia on offer.
Those were the good old days. Today, no longer are we offered an honest
street-side table amidst the parked BMWs and Mercedes. Instead, Abu Ramy now
occupies a large building overlooking the hospital with a cavernous hall
capable of feeding over a hundred diners. Even with the new digs, it was disconcerting
to see that the bathroom had not been updated and still elicited uncomfortable
odours.
Immediately noticeable is the absence of any poultry on the menu; here, only
cow and lamb are served. In addition to your grill house staples of minced beef
kofta, grilled kabab and ribs, there is also a slow-cooked roast of lamb in
onions and vegetables (60LE). It is this last option that provides the
stand-out gustatory experience of the evening, since the ever-so-tender meat is
literally smothered in sweet onions and carrots, and swimming in a wonderful
broth boosted by the drippings from the bone marrow from the length of hollow
bone still in the clay pot.
The other options and the salads sadly fall short of the high bar set by the
lamb dish, offering only a fleeting sense of satisfaction. We are used to being
served well-done kabab, yet the marinade is what usually keeps it tender and
juicy. However, at Abu Ramy, this reviewer found the kabab to be tough, chewy
and lacking a substantial grilled beef flavour.
In typical fashion, prices are quoted according to weight, and a kilogram of
mixed grill meats will cost about 140LE, with each individual salad costing
just 2LE. In the end, the entire experience left us wishing that we had gone to
try some of the other options, and we discover that it wasn't just the area
that had changed; Abu Ramy itself has changed for the worse.