Kebdet El Prince: Glorious, Greasy Street Food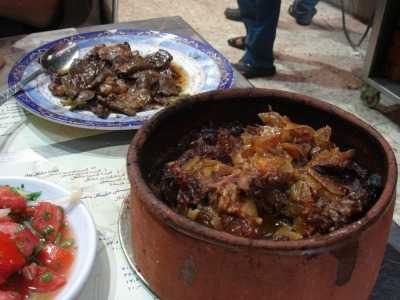 Deep in the heart of Imbaba, there lies a haven for quintessential
Egyptian food, sans stomach upset. We understand that Imbaba is not high on the
list for most diners searching for restaurants. Yes, sure there is the Swiss Club,
but other than the club's afro night and the odd party, there isn't much else
to do there. However, for an adventurous soul, heading over to Imbaba could
actually be an intentional trip, as opposed to missing your turn on your way to
the Cairo Jazz Club.
Kebdet El Prince is a loud street-side restaurant, bedecked in Ahly
finery and photographs of all the celebrities that have eaten there in the
past. The clientele is a cross section of Egyptian society; BMWs and tuk-tuks
are parked side by side along the street. On weekends, you will be hard pressed
to find a table, even at the ungodly hour of 2AM. However, the wait is well worth
it.
Once you do get a table, it is promptly wiped clean, and menus are handed
out. Five minutes later, the waiter arrives to take your order, and he will provide
gentle prodding if your indecisiveness gets in the way. Friendly and familiar,
like most salt-of-the-earth Egyptians, the wait staff treat everyone like a
long-lost friend; and that is always a good thing.
It is important to mention that the concept of a three-course meal does
not exist here. So we dove right in, and ordered one serving of fattat moza (lamb
fatta– 70LE) and one serving of molokheya (20LE), along with all the
accoutrements that should adorn an Egyptian meat fest, especially the spicy
Egyptian garden salad. To give you an idea of the portion sizes, this order was
more than enough for four adults.
Liver is on the menu in many myriad forms, and we're not just talking
beef liver. Camel, buffalo and chicken as well as veal livers are all available
for consumption. Not limited to serving liver dishes, the menu also boasts
other Egyptian fare such as molokheya and fatta with your choice of protein:
lamb, beef, veal or– you guessed it– liver. It is really these two dishes that
are the most accessible to neophytes; the molokheya is a rich green gelatinous
broth, made with a very flavoursome and rich meat-based broth.
For some, the
layer of fat coating everything can be a bit too much, but Kebdet El Prince isn't
about eating healthy– they leave that to the rabbits that they sometimes offer
as part of a fatta or stew. Humans– Egyptian ones– should eat to the point of
engorgement.
There is no dessert, because next door there is a Malky shop that serves
up some wonderful Egyptian desserts– but don't feel bad if you don't have room;
few leaving Kebdet El Prince do.